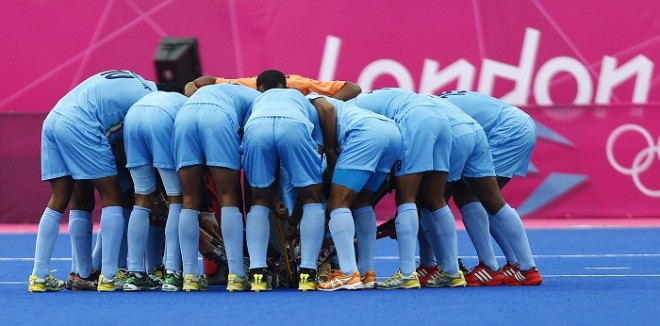 India were fortunate enough to make it to the men's hockey Champions Trophy 2016 final despite their loss to Australia in their last league match on Thursday. Belgium and Great Britain were later involved in a thrilling 3-3 draw, which paved the way for PR Sreejesh's men to move into the final against Australia on Friday.
Call that luck or India's reward for good showing earlier in the competition, Roelant Oltmans' side have reached their maiden Champions Trophy final. It is an achievement in itself as the competition comprises of quality teams like Germany, Great Britain and Belgium. Now, India are eyeing their first gold medal in Champions Trophy history.
India will be looking to take avenge their 4-2 loss against Australia. India were outplayed in all departments of the match on Thursday for the first three quarters, but they improved in the final quarter. Hence, there is plenty to look forward to in the all-important final as India will be keen to carry their fourth quarter momentum into the title-decider.
India's coach Oltmans was visibly disappointed in the sidelines, but the technician that he is, expect him to come up with a perfect strategy for the final. India cannot afford to give much space to the Australian players, which was a major problem in the last game.
Australia have always been one of the best teams in the competition, and their unbeaten streak in the Champions Trophy 2016 makes them an obvious favourite. With skilled players like Aran Zalewski, Blake Govers and the in-form goalscorer, Glenn Turner, they are a going to pose a serious threat in the final as well.
Though India's defence has been brilliant in the competition, Australia found a way to unlock their defence rather easily, providing a number of chances at goal.
India, who are not expected to enjoy possession in the final, should not hurry things, and avoid playing the counter-attacking game if it is not working. They need to control the ball, and move ahead gradually, penetrate the circle with more India players in the Australia half. In doing so, they will have further chances of creating a penalty corner, which is one of India's biggest strength with VR Raghunath and Harmanpreet Singh in the team.
But, whenever a chance comes by for a field goal, they should latch onto that opportunity, and make it count. It is at this juncture, India's SV Sunil and Mandeep Singh will need to use their skills against Australia's defence.
Where to watch Champions Trophy 2016 final
India vs Australia Champions Trophy 2016 final is scheduled for 12:45 am IST. Live TV coverage will be available for Indian viewers on Star Sports 2/HD, with live streaming on starsports.com.
Belgium viewers can watch Men's Champions Trophy 2016 live on Telenet. UK viewers can watch the game on BT Sport.
Korea, Singapore, Indonesia, Brunei, Thailand, Hong Kong, Laos, Cambodia, China, East Timor, Hong Kong, Macau, Mongolia, Myanmar, Papua New Guinea can watch the game on Fox Sports Asia.