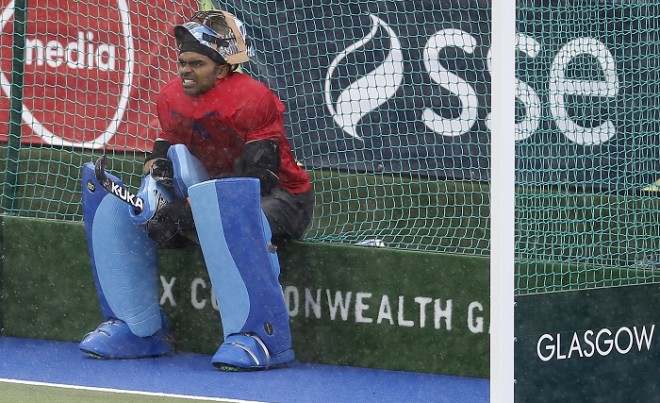 India failed to get past Australia in their last league match of the Champions Trophy, as they lost 4-2 on Thursday, but they have still managed to reach the final of the competition. With India's loss, Great Britain received a huge boost, as they could have reached the final with a win over Belgium, but were held to a thrilling 3-3 draw.
As a result of which India finished second in the standings, and will face Australia in the final of the Champions Trophy on Friday.
India might have impressed in their last few matches, but they were nowhere near their best against Australia, who walked into the final without losing a single game in the competition.The scoreline could have been much worse for India, had it not been for the brilliance of goalkeeper PR Sreejesh, who made some wonderful saves throughout the game.
India's offensive players, on the other hand, were below par, and found it difficult to shine against Australia. India, however, only played good hockey in the final quarter, which was not enough to beat Australia.
There was not much action in the first half. Australia, as expected, were enjoying better possession, but India defenders looked strong as they were organised at the back. Sreejesh made a brilliant save in the 11th minute to deny Australia the lead.
However, Australia started the second quarter brightly, and came close to goal as well via penalty corners, but Sreejesh looked sharp once again. The goalkeeper was keeping India in the game, but Sreejesh was finally beaten by Australia's Trent Mitton in the 20th minute.
Australia continued their dominance, and Aran Zalewski doubled their lead in the 23rd minute, which resulted after some relentless pressure. India were outplayed by Australia in the second quarter. Overall, India were disappointing in the first half as they did not have any shot on goal, which was quite embarrassing.
India were providing too much space to the Australia players, and Flynn Ogilivie took advantage of the situation, scoring a wonderful goal in the 35th minute. Though India played much better after conceding the third goal, they were finding it tough to penetrate the circle. India earned their first penalty corner in the 42nd minute, and they failed to produce a positive result.
VR Raghunath gave India a lifeline converting a penalty corner in the 45th minute, but Australia more or less sealed the game with a fourth goal in the last few seconds of the the third quarter.
It was always going to be tough for India, who required three clear goals to salvage a draw, and Mandeep Singh raised India's hope with a strike in the 49th minute. India looked better in the final quarter, playing some quality hockey, pressurising Australia as well. India threw everything in the last few minutes of the match, but to no avail, and lost their final league match.