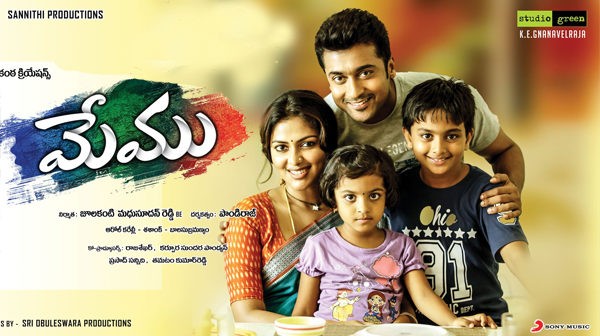 Director Pandiraj's Telugu movie "Memu," starring Suriya, Amala Paul, Ramdoss, Vidya Pradeep, Karthik Kumar and Bindu Madhavi, has received positive reviews and decent ratings from critics.
"Memu" is a comedy drama film, which is the dubbed version of the 2015 Tamil film "Pasanga-2," that was a thematic sequel to the 2009 film "Pasanga." Besides directing the movie, Pandiraj has also written the script for "Memu," which focuses on the issue of Attention Deficit Hyperactivity Disorder (ADHD) among children.
The film revolves around hyperactive kids Navin and Naina, and how their behaviour becomes a challenge for their parents. They end up being moved from one school to another. The parents approach psychiatrists (Suriya and Amala Paul), seeking their help. How this psychiatrist couple solves their problems forms the crux of the story.
Critics say "Memu" has an interesting concept that showcases a problem faced by kids and how that can be faced. Many aspects in the film have traces of Aamir Khan's "Taare Zameen Pe." The movie has very slow-paced narration, which is its biggest drawback.
Suriya, Amala Paul, Ramdoss, Vidya Pradeep, Karthik Kumar and Bindu Madhavi have delivered decent performances, which are the assets of "Memu." The movie has good production values and Arrol Corelli's music and Balasubramaniem's cinematography are the attractions on the technical front, add the critics.
We bring you some critics' opinions and ratings for the film. Scroll down to see them in the "Memu" movie review roundup:
Movies like 'Memu' are much needed to society and the movie hits on the burning problem which is faced by parents these days. The movie will appeal to audience of all ages. But one must need patience as the narration is too slow. But if you ignore the predictable story, you can connect with the movie easily.
Not very often do films like Memu come out these days. The film has a burning problem which every parent faces these days. The film will especially appeal to those who are going through such situations with their kids. If you ignore the predictable story line and slow pace of the film, you can connect to the emotions easily. But for the regular audience who seek basic entertainment, Memu is not the film you would you like opt this weekend.
Memu might or might not have potential of doing well commercially at the box office. But it has its strength in the plot line that makes us struck emotionally.