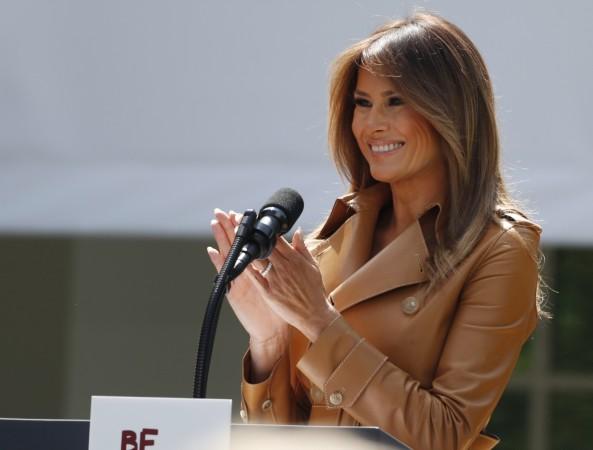 First Lady Melania Trump made her first public appearance in 24 days at a private event for US Gold Star military families on Monday. The event which was closed to the press was to honour the sacrifice of the families who had lost loved ones in the line of duty.
President Donald Trump joked that Melania had left him, before introducing her onstage. Melania thanked the members for their service, in a statement that read- "To all those who have lost loved ones in service to our country, our nation grieves with you. It is a solemn reminder that we, the American people, are able to live as freely as we do because of the selfless sacrifices of our men and women in uniform. We remain indebted to each of them and we honour them today, together, with their families."
The Gold Star event was closed to press, a decision made out of respect for the military family members as per Communications Director Stephanie Grisham. Melania Trump has been absent from the public eye since she underwent a minor operation to treat a benign kidney condition and was released on May 19. Four days prior to the surgery, she made her last public appearance when the couple welcomed home three American hostages from North Korea at the Andrews Air Force Base in Maryland.
The first lady's presence was first noted by Jena Greene, a reporter at the Daily Caller who was invited for the event on account of her father, who was killed in Iraq in 2004. Following the event, Melania confirmed her presence through a tweet via her official account @FLOTUS Reports indicate that she will not travel this weekend with her husband to attend the G7 Summit, or to Singapore on June 12 where Trump is expected.
Melania's absence caused an online storm, with many users using the opportunity to mock President Trump. There was a lot of speculation about her whereabouts, which led to the 'where is she' memes on Twitter.
[Source- IANS]