Melania Trump knows how to turn heads and her recent appearance was nothing short than a stunner. The First Lady joined President Donald Trump to participate in the Easter service in Washington and she wowed everyone with her choice of outfit.
The FLOTUS, who was in the Mar-a-Lago estate during the Stormy Daniels' 60 Minutes interview took place, made her first appearance with the POTUS since the scandalous news broke out in a beautiful red and white patterned Azzedine Alaïa dress.
Letting the sun kiss her flawless skin, she chose to hide her eyes from the sun beneath a pair of her signature eyeglasses. She made her way into the service on a gorgeous pair of white stilettos by Louboutin. She completed the look by letting her hair sit easily on her shoulder.
Trump and his wife were accompanied by Tiffany who was in tune with the Easter feel. The Trump daughter was seen sporting an Easter pink short dress for the service.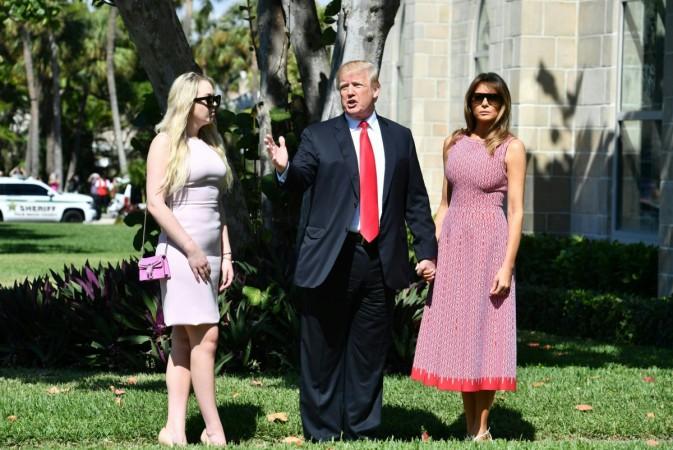 The first family attended a church service in Florida before flying down to Washington and returning to the White House for the same. Maintaining a calm and composed profile, Melania smiled for the camera while standing by her husband, hinting that she remained unaffected by Stormy Daniels' recent allegations.
The first couple was seen holding hands while they made their way into the service venue. Melania chose to stick on the OOTD on her flight back to the White House. Stepping off the Air Force One, Melania was seen accompanied by Trump, their son Barron and Tiffany. The family was also joined by Don Jr., his estranged wife Vanessa and their five children.
Vanessa recently filed for a divorce from Don Jr. The couple was married for 12 years. Their separation came amid the allegations that he had an affair with actress Aubrey O'Day in 2011.
Making her way out of the flight, Melania chose to cover her shoulders with a stunning white coat.
Though the Trump wife has chosen to remain silent over the recent claims against her husband, Press Secretary and Communications Director Stephanie Grisham made a statement on behalf of Melania asking the media to keep Barron away from the gossip surrounding Daniels and Trump.
She said, "While I know the media is enjoying speculation & salacious gossip, I'd like to remind people there's a minor child who's name should be kept out of news stories when at all possible."
She also added, "She's [Melania] focused on being a mom and is quite enjoying spring break at Mar-a-Lago while working on future projects."