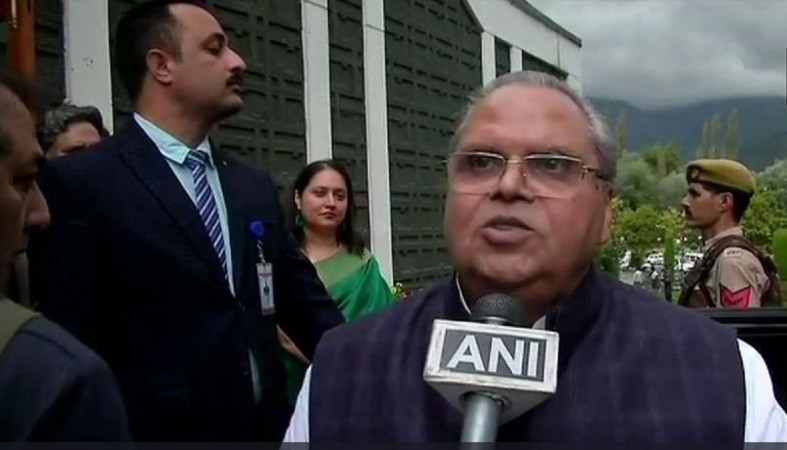 The dramatic turn of events on Wednesday among the political circles in J&K may well have been a planned strategy by both arch rivals, National Conference (NC) and Peoples Democratic Party (PDP) aimed at the dissolution of the Legislative Assembly and not exactly for the government formation.
Top sources in both the parties told the International Business Times, India that both Omar and Mehbooba had apprehensions that Sajad Lone led third front (backed by BJP) would sway their MLAs and thus planned together to defeat such a move.
Sajad Lone while referring to Omar and Mehbooba as " Emperor and Empress " said that they took the decision to come together without gaining the confidence of their MLAs.
The Ansari Brothers who were the PDP MLAs and the first ones to rebel against Mehbooba have lately claimed that they have the support of 18 more MLAs.
Top PDP leader, Muzaffar Hussain Baig's assertions of joining Sajad Lone group indicated that his brother Javaid Baig, an MLA of PDP may also leave the party.
On the other hand, a close associate of Omar, Junaid Mattu who is now the Mayor of Srinagar also announced his resignation from the party and joined Sajad brigade.
"This was a win-win situation for both Mehbooba and Omar. More than the government formation, both these leaders wanted to hold their parties and MLAs together and that prompted them to join hands. The dissolution of Assembly and fresh elections is what they were actually aiming at," a source revealed.
The intent has become clear after the PDP has reportedly expressed its unwillingness to explore legal options and not move to the Supreme Court against the J&K Governor Satya Pal Malik's decision of dissolution of Assembly.
The other two parties, NC and Congress have put the onus on PDP of moving to the SC if it wishes to, which indicates the real motive of all three parties.
The J&K Governor, Satya Pal Malik said earlier today that both NC and PDP have been approaching him for last 5 months for assembly dissolution and they coming together created suspicion and would not have led to a stable government formation.