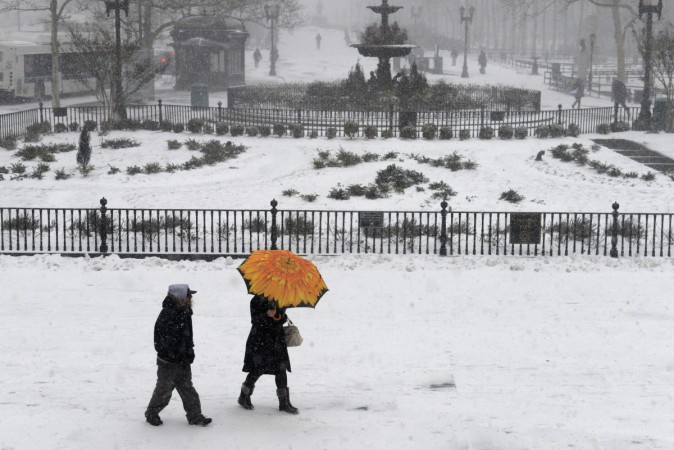 The blizzard of 2015 - the one that weather forecasters predicted would be "epic and historic" - melted away quicker than it was thought to, much to the amusement of the residents of New York who were forced to stay indoors.
The storm was dubbed as the "Snowmaggedon2015". MTA shut down New York subways for the first time in history. Bridges and tunnels were closed, supermarkets were shut, roads were cleared and flights were cancelled. The people remained indoors and continued to watch rerun of "breaking news" about Juno and warnings of a complete shut-down that was inevitable.
New York City Mayor Bill de Blasio, impressed with how New Yorkers had handled the snowstorm, announced on Twitter that the travel ban on the city's roads had been lifted: "We have lifted the travel ban on our city's roads. If you have to drive today, please drive slowly and carefully."
New York Governor also tweeted that "travel ban for all state and local roads has been lifted. Watch this morning's storm update", and also posted a video of the "Morning Storm Briefing".
Even as meteorologists apologised for generating panic, calling snowmaggedon "a big forecast miss", the irritated and the amused alike took to social media to vent out their frustration.
Gary Szatkowski, a meteorologist in Mount Holly in New Jersey, tweeted his apologies: "You made a lot of tough decisions expecting us to get it right, and we didn't. Once again, I'm sorry... My deepest apologies to many key decision makers and so many members of the general public."
Najeebabdul tweeted, "Only historic thing about this #Snowmageddon2015 in #NewYork was how wrong the weatherman was."
"Project Runway" contestant Jack Mackenroth wrote: "It's always a bit disappointing when you're told to expect 15-20 inches and you only get 5. #blizzardof2015 #gayproblems," making fun of the predicted height of snow sedimentation.
#NoMageddon pic.twitter.com/vTxyUblhQH

— MercyMom (@SoftballMere) January 28, 2015
2 feet of snow in New York #Snowmageddon2015 pic.twitter.com/pH1kXqJqW8 — One World 365 (@oneworld365) January 27, 2015
What to call the supposedly end-of-days snowstorm that didn't quite deliver? #Nomageddon? #Junot? #Shlizzardof2015? pic.twitter.com/2WpVETZHfn

— Phil (@lhipreed) January 27, 2015
beeeeecaaauussse.....we're stronger than the stooorrrrmmm #Nomageddon2015 h/t @VonHelff pic.twitter.com/q19W9nYKha — HeavyHokie (@heavyhokie) January 27, 2015
Meanwhile, Blitzen told New York to dust off the embarrassment and get back to work: "You look ridiculous, New York. Get back to work! Love, Canada. #Snowmageddon2015 #nomageddon."
Amid the entire hullabaloo, conservative political commentator Sean Hannity and a few others kept wondering if the "snowmageddon" was only a catalyst to further push the global warming agenda. Hannity tweeted, "Question of the Day: Do you think politicians and the media use storms like #blizzardof2015 to push a global warming agenda? #Hannity."
A beautiful end to the #Snowmageddon2015 that never was... in #NYC Goodnight x pic.twitter.com/kKxXK6YHqx

— Nigel Barker (@NigelBarker) January 27, 2015