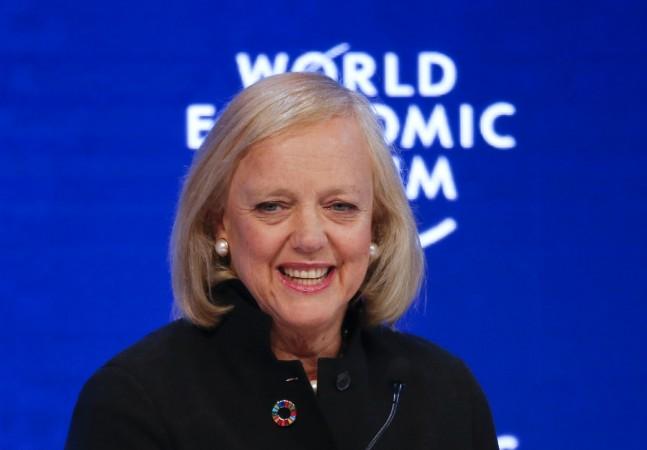 A few months ago, HP Enterprise President and CEO Meg Whitman was said to be one of the contenders to fill in the shoes of Uber founder Travis Kalanick. She had then refuted these claims saying that she intended to stay with Hewlett Packard Enterprise Co. However, dealing out a shock on Tuesday, November 21, Whitman resigned from her post at HPE and will leave the firm early next year.
With this, Whitman ends her six-year tenure at the firm, which has seen quite an upheaval under her leadership. It was under her that Hewlett Packard Co split up into two divisions – HPE and HP Inc. As a measure to turn around the business, Whitman brought several changes in the firm, including thousands of layoffs.
During Whitman's tenure, the firm also acquired a few companies such as Nimble Storage and Aruba.
The 61-year-old will now be replaced by Antonio Neri, who has been with HP for about 25 years. He will step into Whitman's shoes on February 1, 2018, while she will continue to remain on the board.
Announcing her decision Whitman said: "We have a much smaller, much nimbler, much more focused company. I think it is absolutely the right time for Antonio and a new generation of leaders to take the reins," reported Reuters.
Meanwhile, HPE's decision to offer the CEO's post to Neri has been appreciated by many, including equity analyst Ilya Kundozerov. "HPE is more focused and more agile than ever before. A CEO with tech background can help HPE to improve its innovative edge," Kundozerov said.
Amid reports of Whitman stepping down, questions are being raised on what her future plans are. She clarified that she is "going to take a little downtime," but said that she has no plans of joining a competitor. Questions are also being raised on if she plans to pursue a career in politics, considering she has, in the past, been a part of the presidential campaigns of Mitt Romney and Chris Christie. She also ran for the post of California governor in 2010.
The post of Uber CEO too is not an option anymore as the firm has already hired Dara Khosrowshahi. When the global transportation technology firm was looking to hire a new CEO after Kalanick's resignation, Whitman's name came up quite often. But she had denied her involvement through a series of tweets and said that she was "committed to HPE."
"Normally I do not comment on rumors, but the speculation about my future and Uber has become a distraction. So let me make this as clear as I can. I am fully committed to HPE and plan to remain the company's CEO. We have a lot of work still to do at HPE and I am not going anywhere. Uber's CEO will not be Meg Whitman," she had tweeted.