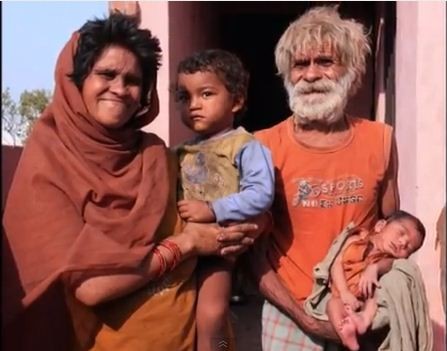 A 96-year-old Indian farmer from Sonipat district, Haryana, has become the world's oldest father for the second time beating the record he set for himself two years ago.
In 2010, Ramjit Raghav was accorded the "World's oldest father" title at the age of 94 when his wife, Shakuntala Devi, gave birth to their first baby boy, Vikramajeet.
Earlier this month, 52-year-old Shakuntala gave birth to their second son, Ranjit, at a Government hospital in Haryana and both mother and child are doing fine.
After the birth of Vikramjeet, Raghav expressed his wish for a second child and since they had a second baby boy, Raghav has now taken a decision to make Shakuntala undergo a tubectomy operation - a surgical procedure for permanent contraception to prevent future pregnancies in women.
A 90-year-old Rajasthan man, Nanu Ram Jogi, in 2007 claimed to be the oldest man who fathered his 21st child, but Raghav broke the record in 2010.
"I prayed to god to give me a second child to complete my family and he granted my wish," Raghav said.
Raghav, who was a wrestler in his young days, remained a bachelor and practiced celibacy throughout his life until he met his wife 10 years ago. "After staying together, we decided to extend our family and aspired for two sons. With God's grace, our wish has been fulfilled," The Times of India quoted Raghav as saying.
"I wake up at six in the morning and go to bed before 8pm. During the day, I work in the fields and also take 1-2 hour afternoon nap," he said adding that his daily diet includes around two litres of cow's milk, fresh and green vegetables and chapattis.
Raghav, who is a farmer, wants his children to study and become high ranking government officers.
Check the video here: