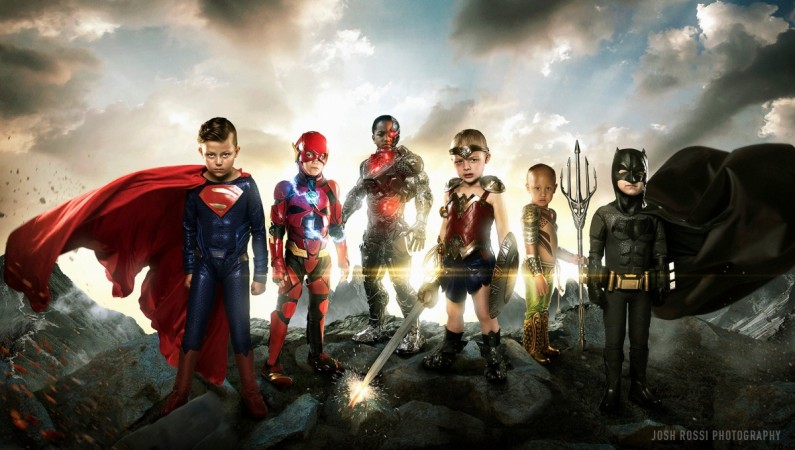 We live in an age where the world needs superheroes to turn things around – so, it is only fair that the real superheroes, struggling with the strongest battle of life, have unleashed their true powers and risen to save mankind.
All thanks to Utah-based photographer Josh Rossi, who decided to turn little children suffering from life-threatening illnesses and disabilities into their inner superheroes.
Also read: Six-year-old diagnosed with rare cancer that makes her eyes bleed and grow to the size of a tennis ball
The 32-year-old volunteered to capture snaps of six incredible kids, aged two to nine, transforming them into characters from Justice League – with full costume and armour, along with special effects for background and setting.
Our new Wonder Woman is a cancer fighter, while this universe's Flash battles with ADHD. Cyborg might have lost his legs to cancer, but his spirit is still as intact as the comic book's version of the troubled-kid.
"When they first showed up to the shoot some were feeling sick and down but as soon as they put on the costume they started smiling and got into the role and had fun," Rossi told Daily Mail Online.
Having drawn the inspiration from a birthday photo shoot for his daughter, where she had transformed into Wonder Woman, Josh said those photos going viral, prompted a lot of requests all around the US for similar shoots.
It was then that Ross and his wife decided to set up the same shoot with kids suffering from medical conditions. "I wanted to photograph the real superheroes - those kids who have cancer and real issues," he said.
Owing to how difficult going through a hospital would be, he took to Facebook to spread the word out – with the help of his friends, while costume-maker Julie Whitley donated the professional costumes, following which the photo shoot happened smoothly in just a day, back in August.
Rossi has his own explanation for assigning particular kids to their individual characters too. "We put them with the superhero that they had something in common with," he said. "We made sure they loved the character."
Three-year-old Sophie, three, who suffers from a rare form of eye cancer just needed to put on the costume to evolve into the real Wonder Woman. Teegan, nine, on the other hand, was born with half a heart, and three open heart surgeries and a heart transplant later is the new Superman.
Kayden, five, underwent double leg amputation due to omphalocele – which caused his internal organs to grow outside his body. Rossi explained he played Cyborg because "Cyborg was a healthy boy until he had a horrible accident. His father kept him alive by giving him robotic parts."
As for the seven-year-old Zaiden who suffers from severe ADHD. Rossi said, "He loves to run and can't stand still so I thought he'd be perfect for The Flash." Mataese, two, has a rare form of cancer called acute megakaryoblastic and was naturally the choice for the ever so unique Aquaman.
And of course – the popular favourite Batman in this edition was five-year-old Simon, who was diagnosed with neuroblastoma, a cancer of the nerves. But according to Rossi, he battles the illness every bit like Batman fights Gotham's villains.
Two weeks of editing on Photoshop later, Rossi believes his biggest accomplishment was the reaction from the kids upon being handed the prints. "They opened it up and were super excited and screaming. Kayden put it up in his room and was staring at it because he had never seen himself so tall."
As an added bonus, all six of the kids were flown to New York so they could attend the Comic-Con and meet the characters they idolize so much. A classic Superhero convention!