Brad Hogg has revealed he has been sharing inputs with fellow wrist-spinner Kuldeep Yadav during the ongoing five-match ODI series between India and Australia.
The 46-year-old though said he did not want to open up about what he had been discussing with his former Kolkata Knight Riders' (KKR) teammate as he prefers personal bonding over national allegiance.
Kuldeep has been Australia's biggest nightmare in the ongoing series. The 22-year-old has troubled top Australian batsmen, including vice-captain David Warner and captain Steve Smith, picking up seven wickets in the first three matches of the series, which India won.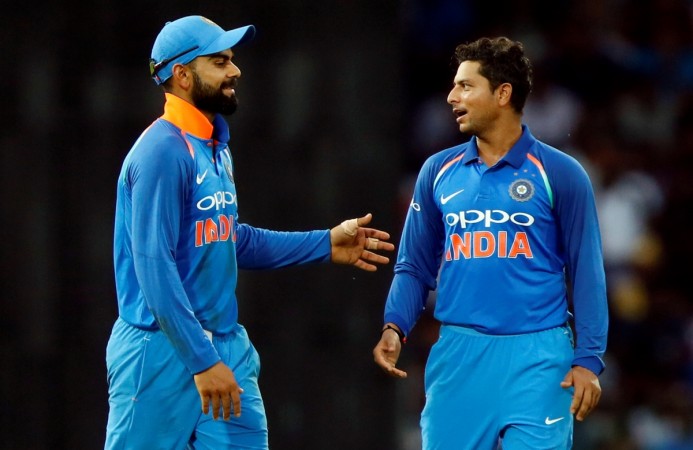 In the second ODI in Kolkata on September 21, Kuldeep created history by becoming only the third Indian bowler to pick up an ODI hat-trick. The young wrist-spinner showed his class when he bowled a wrong'un to dismiss Australia's Pat Cummins with the hat-trick ball.
Kuldeep, who has been rested for the ongoing fourth ODI in Bengaluru today (September 28), hunted in pair with fellow wrist-spinner Yuzvendra Chahal as the duo snared 13 Australian wickets in the first three ODIs.
| 4th ODI - Live streaming & TV coverage |
"I'm not going to go into it because for me it's confidential between me and Kuldeep. We're close mates and he's confided in me so it'd be pretty rude for me to take that information and give it away," Hogg told cricket.com.au when asked about what advice he has been giving the young Indian left-armer.
He added: "We bowl the same art and it's not an art that's prevalent in international cricket. So as much as I'd like to talk to some of my former teammates about it, the art is more important.
"I want that art to succeed and I want other kids to be bowling it. And we're seeing a lot more kids bowling it and coming through the ranks.
"So I'm caught in between a rock and a hard place a little bit, I guess."
'Sir Hogg'
Hogg represented Australia in just seven Tests (17 wickets) and 123 ODIs (156) before retiring from both the formats in 2008. However, the veteran chinaman bowler continued to play T20s till 2014.
At 46, Hogg is still going strong with contracts in multiple T20 leagues across the globe, including the Indian Premier League (IPL) and the Big Bash League (BBL).
Despite playing only five matches for KKR in IPL 2016, the Western Australian bowler played a key role in mentoring the youngsters, including Kuldeep.
Hogg also heaped praise on Kuldeep, saying the youngster shows a lot of respect to elders. He also said the wrist-spinner needed to learn a lot by himself to adapt to the pressures of international cricket.
"It's quite funny, we WhatsApp each other and he keeps calling me 'Sir' and I keep saying 'mate, just call me Hoggy. And that's a difference in cultures and his upbringing," he said.
He added: "He shows a lot of respect for his elders and in his own right he's established himself. The thing about Kuldeep I like is it's not just his bowling, it's his personality and him as a person."