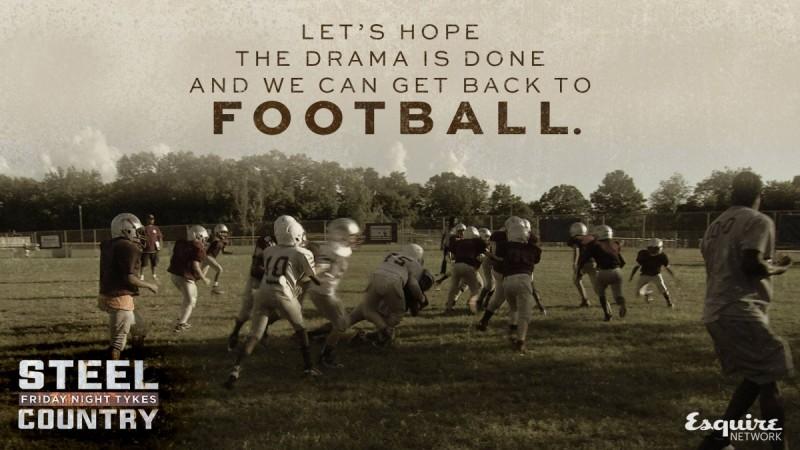 Esquire Network's gripping docuseries "Friday Night Tykes" returned Tuesday, March 22, 2016. Along with focusing the lens on the iron-belt towns for the first time, the current season, titled "Steel Country," is also special for featuring the first female coach of the series.
Felicia Mycyk, who coaches Ambridge Lil Bridgers, is a former female pro-football player. She used to be the starting defencive back on the Pittsburg Passion, which was the first women's football franchise to be featured on ESPN and Sports Illustrated.
"Most times when people first see me, they don't realise that I am a football coach. They think that I am a teen mom or a cheer-leading coach," Mycyk revealed in an exclusive clip. However, that is definitely about to change for the inspiring coach, who grew up breathing the game with four competitive brothers.
Also Read: Olivia lied about cancer and being Diamond's sister in "BGC 15?"
With "Steel Country," Mycyk will show the world why she is a respected coach in her own right. This season, especially, is scared for any coach to prove their worth, considering football is not just a pastime in Western Pennsylvania. This is the birthplace of many NFL greats like Joe Montana, Joe Namath, Mike Ditka, Darrelle Revis, Tony Dorsett and Johnny Unitas.
Around these areas, football is a tradition and a birthright. The young boys of these areas are pressured not only by their families and their coaches, but also by their entire communities.
The 12-part docuseries will feature the following football teams:Aliquippa Lil Quips, Ambridge Lil Bridgers, Beaver Falls Lil Tigers, Blackhawk Lil Cougars, Central Valley Lil Warriors and Monaca Lil Indians.
Don't forget to watch new episodes of "Friday Night Tykes: Steel Country" Tuesdays at 9 p.m. (EST). You can also catch up on their journey so far via the Esquire Network website.