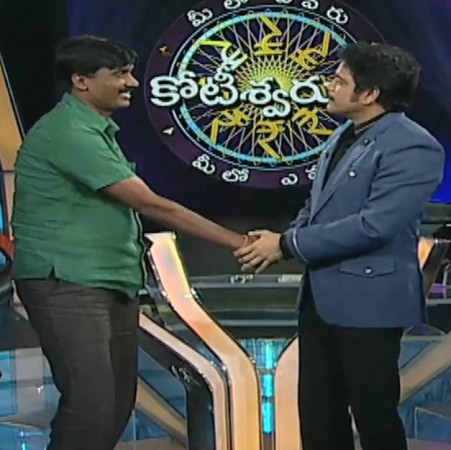 Kurnool DSP Srinivasulu, who is the first contestant on Akkineni Nagarjuna's reality TV show "Meelo Evaru Koteeswarudu 2" (MEK2), has won ₹12.50 lakh in the first episode of this season and he will be seen playing for ₹1 crore in the next episode, which will be aired on Tuesday, 9 December.
The much-awaited second edition of "Meelo Evaru Koteeswarudu" went on air on Maa TV with a lot of glitz and glamour on Monday night. The show began with some glamorous dance performance for a specially-composed song "The King is back". Actor-turned-host Nagarjuna, who made his entry at the end of the song, also shook a leg with the dancers.
He also addressed the crowd in the first episode of "Meelo Evaru Koteeswarudu 2". "Your unconditional love and support has made me a superstar. I have enjoyed this stardom throughout my career. You are the real stars, who have made me a star and today I salute all the real stars," the host said.
Meanwhile, Nagarjuna also revealed how he has been missing "Meelo Evaru Koteeswarudu", ever since the first edition ended. "Since August, I have been missing this show. I missed this hot seat, this computer and your love. Today, I am all happy and excited to be back on the show," he added.
Ten people took part in the Fastest Finger Test (FFT) and three questions were asked in this round. Srinivasulu topped the list, beating his nearest competitor Lakshmi Swathi. Nag took him to the hot seat and made sure he is comfortable.
"Meelo Evaru Koteeswarudu 2" has received overwhelming response with nearly 35 lakh viewers taking part in its registration process. "I'm a police officer from Kurnool and I feel very proud to be the first contestant of the show. I want to use the money that I win here for the scholarship of students in a school in my village. I'm well prepared for the show and hope to walk away with ₹1 crore," Srinivasulu said.
Srinivasulu answered eight questions without taking any lifeline. He opted for 'Audience Poll' for ninth question, '50/50' option for 10th question. He got his first cheque worth ₹3.20 lakh on the show. While he was successful in answering the 11th question, and his wife Uma Maheshwari alerted him with 'Code Red,' for the 12th question.
The first episode ended on a happy note as Srinivasulu answered the 12th question using the last life line – Dial a Friend -- and won ₹12.50 lakh. The next three questions will decide whether he will win ₹1 crore. Will he answer the remaining questions? Will he walk away with ₹1 crore? Only time will tell.
Watch the complete first episode of space to read live updates on the show.