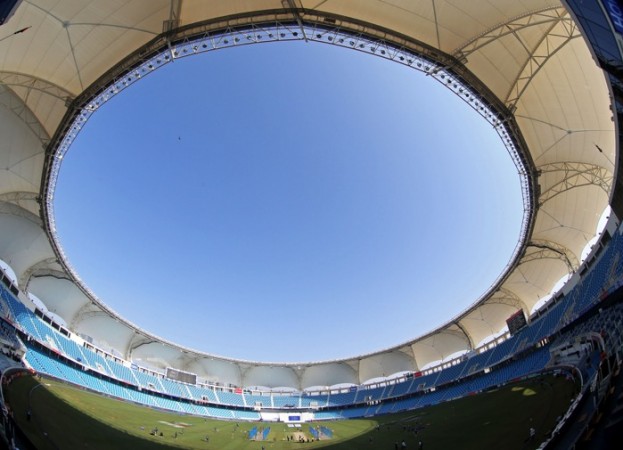 That is all from me (Rajarshi Majumdar) and IBTimes India edition. Have a good night ladies and gentlemen. Until next time! See you soon.
It is all over! Gemini Arabians have won the opening game of the Masters Champions League by 78 runs. That is indeed a massive victory.
It is but clear that Arabians are a dangerous side and are going to put up tough challenges against their opponents in this tournament.
Ryan Ten Doeschate was the only batsman who tried to show some character during the run chase as others just threw their wickets away.
Ambrose is cleaned up by Rana Naved! Libra Legends 150/7.
Tendo is GONE! Libra Legends 150/6.
12:26: Tendo has played a good hand here but it surely will not be enough for the Legends. This innings will go down in the losing cause. No other batsman showed any intent whatsoever during that run chase. Libra Legens 137/5 in 17 overs. 98 more needed.
12:19: Libra Legends need 111 runs from 30 balls and that is almost next to impossible. Tendo is the only player who has shown some intent during this mountainous run chase against Gemini Arabians. Jacques Kallis will be kicking himself for asking the Arabians to bat first. Libra Legends 124/5 in 15 overs. 111 more needed.
12:12: Ryan Ten Doeschate is fighting a lone battle out there in the middle for the Libra Legends. Half the side is back into the dugout and Gemini Arabians are clearly going for a massive victory here at the Dubai International Stadium. Libra Legends 110/5 in 13 overs. 125 more needed from 42 balls.
Muralitharan dismisses Sean Ervine for 22. Libra Legends 96/5. It is almost over now for the legends.
Time for strategic timeout now!
11:55: Sehwag is trying to slow these two batsmen down by using Saqlain and Muralitharan from either ends of the wicket. Halfway through the innings, the Legends still need 154 runs from the last 60 balls. Libra Legends 81/4 in 10 overs. 154 more needed.
11:51: Sean Ervine and Ryan Ten Doeschate are trying to rebuild the Legends innings here. Both batsmen have the ability to go hammer and tongs and it is about time they do it. The Legends still have six wickets in hand. Libra Legends 71/4 in 9 overs. 164 more needed.
11: 43: The required run rate is around 13.50 at this moment. Libra Legends have played out 18 dot deliveries and that goes on to show how good the bowling has been from the Arabians. Mills is bowled out here for a figure of 2 for 27 in his spell of 4 overs. He himself has bowled 10 dot balls. Libra Legends 52/4 in 7 overs. 183 more needed.
Marcus North has been stumped by Sangakkara. Libra Legends 43/4 in 5.4 overs.
Michael Lumb is gone too! Legends are in serious trouble here. Mills gets his second.
11:27: Marcus North is out there in the middle and the Legends are clearly struggling. They just have managed to score 29 runs in the first four overs of the powerplay. Libra Legends 29/2 in 4 overs. 206 more needed.
Taufeeq Umar is run out here! Legends lose their second. Superb work by Rana Naved.
There is the first wicket. Jacques Kallis is gone! Kyle Mills picks up the precious wicket.
11:14: The Legends openers Kallis and Lumb need to understand this quickly that they have no time to play yourself into the game because they are not batting first. In fact, they are chasing a humongous total of 235 runs in just 20 overs. Libra Legends 11/0 in 2 overs. 224 more needed.
11:10: The fans will be wondering are the Legends really in the mood to chase that target down or not. Just 2 runs came from the first over which was bowled by Kyle Mills. Libra Legends 2/0 in 1 over. 233 more needed.
Libra Legends need 235 runs to win in 20 overs! Stay tuned ladies and gentlemen.
This is going to be one heck of a run chase for the Legends. They need each and every batsman to step up to the occasion in order to the reach that total. But at this moment it all looks bleak for the Legends.
10:48: Gemini Arabians finish on a mammoth total of 234/3 in 20 overs!
Can you believe that score??
10:42: Gemini Arabians have gone past the 200 run mark now. This is going to take a herculean effort from the Legends to get to that total. Brad Hodge is rubbing salt to the wounds now. Gemini Arabians 213/3 in 19 overs.
10:34: Sangakkara has gone crazy out there. This has been an extra-ordinary acceleration from Kumar Sangakkara. Left-handed batting at his very best. Tendo finally had the last laugh as he dismisses Sanga! Sanga is gone for 86 from just 43 balls! Incredible innings comes to an end. Gemini Arabians 196/3 in 17 overs.
10:25: Sangakkara is on fire here at the Dubai International Stadium! Who will say that he could not score a single run in the first seven balls that he faced. He has cruised to his half century in no time. Gemini Arabians are surely going to put a hug total on that scoreboard. Gemini Arabians 163/2 in 15 overs.
OUT! Levi is finally gone. Hogg dismisses him.
10:15: A disastrous over from Sean Ervine! 24 runs came from that over. Sangakkara is also finding the middle of the bat now. Both batsmen have stepped on the accelerator now and this is not looking good for the Legends. Gemini Arabians 132/1 in 13 overs.
10:08: Arabians are looking at a big score here. As long as Levi and Sangakkara is out there in the middle, things are going to get worse for the Legends. Levi has reached his 50 in 38 deliveries. That is the first 50 of the Masters Champions League. He has played well so far. Arabians have also crossed the 100-run mark. These two have also added more than 50 runs together now. Gemini Arabians 108/1 in 12 overs.
9:56: Halfway through the innings, Legends have made a good comeback after facing the early onslaught from Virender Sehwag. Levi is still there in the middle and batting decently. The first three overs produced 42 runs and the next seven produced just 38 runs. Incredible is not it. Gemini Arabians 80/1 in 10 overs.
9:47: Legends have managed to stop leaking those runs. Especially, because of Tendo. He has bowled two brilliant overs. One will consider him to be unlucky as Buttler dropped Levi's catch in his over. Tendo has bowled two overs now and has just conceded 6 runs. Gemini Arabians 69/1 in 8 overs.
9:38: What an over from Tendo! A maiden over which is a rarity in T20 cricket. Legends are just pulling back things here after Sehwag and Levi were off to a flier. The powerplay overs are done now. The fields can spread now. Gemini Arabians 54/1 in 6 overs.
Ryan Ten Doeschate is into the attack now!
Sehwag is gone! Ian Buttler removes the dangerous man. Brad Hogg took the catch at deep fine leg. Gemini Arabians 54/1 in 5 overs.
9:30: Legends have now used four different bowlers in the first four overs. Kallis has got some thinking to do now as his side is in some sorts of trouble here. Both Levi and Viru are playing their natural game right from the start. Veteran Brad Hogg bowled the fourth over of the innings and managed to keep the batsmen at bay. Just 6 runs came from that over. This was the best over so far for the Legends. Gemini Arabians 47/0 in 4 overs.
9:26: Arabians are off to a superb start. Both Sehwag and Levi are going for the kill. They have been hitting every bowler coming their way. Gemini Arabians 41/0 in 3 overs.
9:16: What a way to start the proceedings and no man on earth knows it better than Virender Sehwag. Andy McKay bowled the first over for the Legends. And it turned out to be really expensive - courtesy: Sehwag. Gemini Arabians: 13/0 in 1 over.
Here is the first ball ladies and gentlemen, and Viru smashes it for a six!
Richard Levi has walked out in the middle with Viru instead of Sanga!
Danny 'Mad Max' Morrison is in the commentary box folks. He is going to give us some entertainment for sure!
The players are ready to walk out in the middle. The game will begin any moment from now. Are you ready guys?
The live action will begin in another 10 minutes. Hold on to your seats folks. We are up for a rollicking encounter.
Guess what, Virender Sehwag and Kumar Sangakkara will open the batting for Gemini Arabians. Things just cant get better than this isn't it guys?
Libra Legends have won the toss and they will bowl first!
Toss is on its way!
How much do you think Viru will score today?
The opening ceremony is already over and the action will begin soon. The toss will happen in any moment ladies and gentlemen. Stay tuned!
Libra Legends will face Gemini Arabians tonight at the Dubai International Stadium. Sourav Ganguly, who was supposed to lead the Legends will be missing this tie as he has a back problem to deal with. Jacques Kallis will be leading the side instead.
Virender Sehwag will lead the Gemini Arabians side on the other hand.
Masters Champions League is finally here ladies and gentlemen. Gear up for yet another exciting T20 extravaganza as the players have promised complete entertainment for the next couple of weeks in the United Arab Emirates (UAE).
This is me Rajarshi Majumdar and I will be bringing you the live updates of the action between Libra Legends and Gemini Arabians.
Good evening ladies and gentlemen! Hello and welcome to the live blog coverage of the first game of the Masters Champions League between Libra Legends and Gemini Arabians.