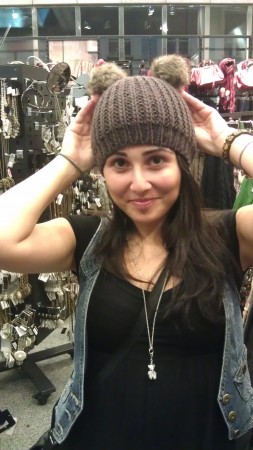 The shocking video that shows the final moments of German student Tugce Albayrak before she went into a coma and died has been released by German newspaper Bild with hopes that witnesses would come forward with more information about the brutal attack.
Albarayak, of Turkish origin, died on what should have been her 23rd birthday, after remaining in coma for over two weeks. Her parents decided to switch off her life support on Friday after she was declared brain dead. She was fatally beaten by two young boys for interfering in an argument involving them.
23-Year-Old Albayrak was dining at a McDonald's joint in Offenbach, near Frankfurt, on the night of 15 November when she noticed a violent quarrel between three young boys and two girls in the toilet area. Her friends revealed that Albayrak , who heard the girls, aged around 13 to 16, screaming for help left her table to settle the argument.
The boys reportedly left the eatery but when Albayark came out around an hour later, they were waiting for her. Security camera footage from McDonald's shows the enraged attacker, identified only as Sanel M, 18, loitering around the restaurant with another man who appears to be calming him down.
When Albayrak, along with a group of others walks out of McDonald's, the alleged attacker runs in their direction while the other man attempts to hold him back. When Albayrak approaches Sanel M and confronts him, the man throws a fatal punch at her that leaves her motionless on the ground.
Fall #Tugce: Das Beweis-Video! BILD zeigt, was in der Nacht auf dem Parkplatz wirklich geschah http://t.co/7QV6nQmu52 pic.twitter.com/ujTNLYXlEy

— BILD (@BILD) December 1, 2014
The suspect, who has been taken to custody, is from the Sandzak region of Serbia and has confessed to striking Albayrak, according to German public radio station Deutsche Welle.
Albayrak's story has got a lot of attention and her well-wishers have been sending countless messages to the hospital she was admitted to. Even Eintracht Frankfurt footballer Haris Seferovic paid tribute to Albayrak after scoring against Borussia Dortmund.
Germany's President Joachim Gauck said she had shown "exemplary courage and moral fortitude" and confirmed that he would consider honouring her with a national order for merit, BBC reports.
In a letter to her parents President Gauck wrote, "Like countless citizens, I am shocked and appalled by this terrible act. Tugce has earned gratitude and respect from us all... She will always remain a role model to us, our entire country mourns with you."