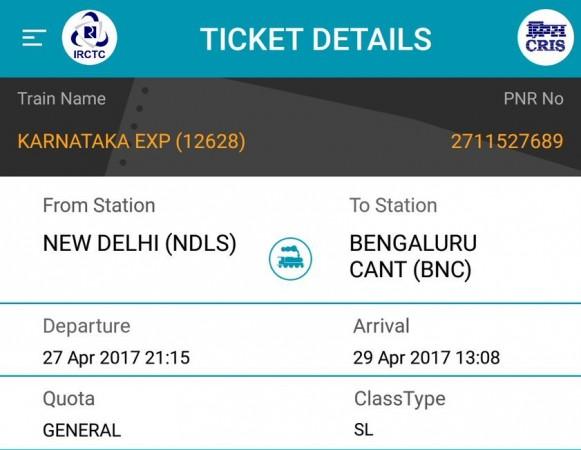 The BJP has bought tickets for Delhi Chief Minister and Aam Aadmi Party (AAP) convenor Arvind Kejriwal to travel to Bengaluru for treatment after the Municipal Corporation of Delhi (MCD) elections, scheduled to be held on Sunday, April 23. The BJP's Delhi unit came up with the response after remarks made by Kejriwal on Friday in the run-up to the polls.
The BJP, which currently rules the MCD and all its three arms, is looking to retain power in the civic body, while the AAP is trying hard to wrest power from the Amit Shah-led party. In that context, it is an important election for both the parties. The BJP's move to lampoon the AAP may have some impact, given the Kejriwal-led party's defeat in Punjab and Goa.
The ticket to Bengaluru
Delhi BJP spokesperson Tajinder Pal Singh Bagga on Friday night tweeted the photo of a train ticket the saffron party had booked for Kejriwal. The Hindi message, translated into English, said: "It seems from the way Arvind Kejriwal is cursing/abusing Delhiites that he will soon need treatment. So we have booked a ticket."
In a desperate bid to seek votes for his party, Kejriwal had on Friday said: "If you vote for the BJP, the mosquitos and the garbage will remain like this [in Delhi] for the next five years. If someone at your home falls sick with dengue, you yourself will be responsible because you voted for the BJP."
BJP को वोट दिया तो अगले 5साल कूडा,मछर ऐसे ही रहेंगे।कल अगर आपके घर डेंगू हो जाए तो आप ख़ुद उसके ज़िम्मेदार होगे क्योंकि आपने BJP को वोट दिया

— Arvind Kejriwal (@ArvindKejriwal) April 21, 2017
Kejriwal 'cursing'?
"The kind of language Kejriwal is using these days is akin to cursing. How else do you justify someone saying that children will fall sick or suffer from dengue?", Bagga told the International Business Times, India.
"Kejriwal has this habit of visiting Bengaluru after every election. He did it even after the Punjab and Goa polls. And we believe he will do it after the MCD elections as well. That is why we have already booked a ticket for him," he added.