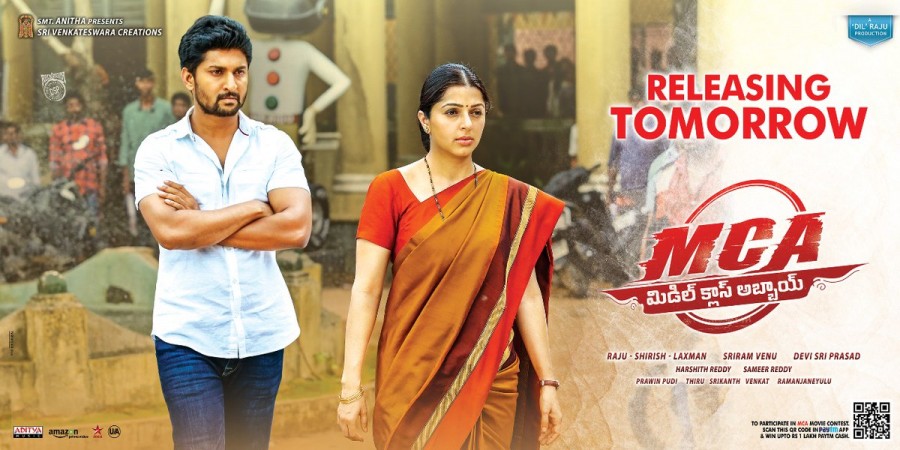 Nani's MCA (Middle Class Abbayi) has kept the cash registers ringing at the worldwide box office in its second week, and managed to surpass the collection mark of Rs 60 crore gross in 12 days.
The Nani and Sai Pallavi-starrer was released in over 900 screens on December 21 and received good opening at the ticket counters. MCA got mixed talk and also clashed with Akhil Akkineni's Hello, but surprised everyone by making decent collection in the global market on the following days.
MCA crossed the Rs 50-crore mark at the worldwide box office in the eight-day extended first week. The film recovered 100 percent of investments to its distributors by earning them Rs 30.10 crore.
But people in the industry predicted its dream run would be halted in the second week by new releases Okka Kshanam and 2 Countries. But MCA once again surprised them by making better collection than the new movies at the worldwide box office in its second weekend.
MCA has reportedly collected over Rs 10 crore gross at the worldwide box office in its second week, taking its 12-day total collection beyond the mark of Rs 60 crore in the global market. The film has become the highest-grossing movie for Nani, beating the lifetime records of his previous releases.
Made on a budget of Rs 25 crore, MCA has amassed Rs 30 crore from the sale of its global theatrical rights. The movie has gone on to become big hit, earning Rs 35.40 crore for its distributors.
Here are the details of the theatrical rights' price and area-wise earnings of MCA. These are estimated numbers and they may not match the actual figures. All the numbers are in Rs and crore, except when mentioned otherwise.
| | | | |
| --- | --- | --- | --- |
| Area | Rights | Earnings | Recovery (%) |
| Nizam | 8.00 | 12.95 | 161.87 |
| Ceded | 4.00 | 4.55 | 113.75 |
| Vizag | 3.00 | 3.70 | 123.33 |
| G East | 1.90 | 2.05 | 107.89 |
| G West | 1.70 | 1.61 | 94.70 |
| Krishna | 2.00 | 1.92 | 96.00 |
| Guntur | 2.40 | 2.00 | 83.33 |
| Nellore | 1.00 | 0.94 | 94.00 |
| AP/T Total | 24.00 | 29.72 | 123.83 |
| Karnataka | 2.00 | 1.61 | 80.50 |
| Rest of India | 0.50 | 0.55 | 110.00 |
| Overseas | 3.50 | 3.52 | 100.57 |
| Global Total | 30.00 | 35.40 | 118.00 |