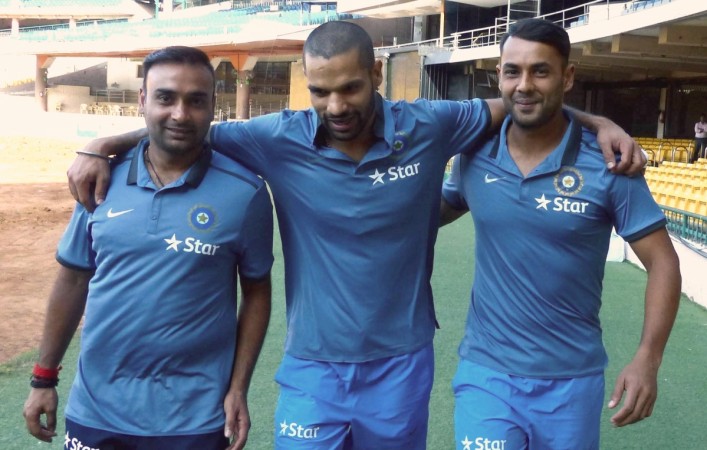 The India Test team squad for the three-match series against New Zealand was announced on Monday morning by the BCCI (Board of Control for Cricket in India) in Mumbai and one of the absentees from the 15-man team remained Stuart Binny. Shardul Thakur's name was also missing from the list. Openers Rohit Sharma and Shikhar Dhawan, however, received yet another opportunity to prove their mettle.
Virat Kohli's men take on Kane Williamson's team in the first Test match at the Green Park Stadium in Kanpur on Sept. 22. The second Test match is scheduled to start on Sept. 30 in Kolkata, while the third one is scheduled for Oct. 8 in Indore.
Twitter users from India had their opinion on the squad, as always. Sports presenter and popular TV persona Mayanti Langer, who is the wife of Stuart Binny, was the target of ridicule once again on the social media platform. It has to be noted that Mayanti, 31, had zipped the lips of her trolls a few days back when she was attacked after Binny had one of his bad days in office.
India all-rounder Binny gave away 32 runs in a single over during the first T20I against West Indies at Fort Lauderde in Florida, United States, on Aug. 27.
Mayanti may have shut all her trolls with a single message, but the trolls, as they keep multiplying like bacteria, returned in full force again on Monday as Binny got excluded from the India squad. "God has been very un-kind to Mayanti Langer," the Twitter trolls wrote.
Here are some of the tweets
This is what Mayanti Langer had posted days back
Meanwhile, cricket expert and commentator Harsha Bhogle spoke about the India squad and mentioned that picking a predictable squad was a confident move by the BCCI.
India pick a largely predictable team for the series against New Zealand. That they can do so is a measure of confidence. India have the option of playing 6 batsmen + keeper & 4 bowlers or 5 batsmen + 5 bowlers & keeper. Have given themselves enough options. It might seem there is one fast bowler too many but Kohli likes pace and reverse swing gets a lot of wickets. Remember Yadav vs SA? India can play all 3 spinners. Helps that each is different & each bats well enough to contribute. Will depend on 5 batsmen or 6 [sic]."
- Harsha Bhogle on Twitter.
Full squad