There is still too much left to explore on Earth, and here's a discovery that proves it. A group of divers recently discovered the world's longest underwater cave system east of Mexico.
The discovery was made after 10 months of work was put in by Underwater Exploration Group of the Great Maya Aquifer Project. The divers found a connection between two extensive flooded cavern systems, Sac Actun and Dos Ojos situated in Yucatán Peninsula, to form the world's largest known flooded cave.
Before the discovery, the Ox Bel Ha System located south of Tulum in Mexico held the title of the longest underwater cave, measuring 167 miles in length. The Sac Actun System stood second at 163 miles long. According to National Geographic, the new found cave measures a length of 215 miles.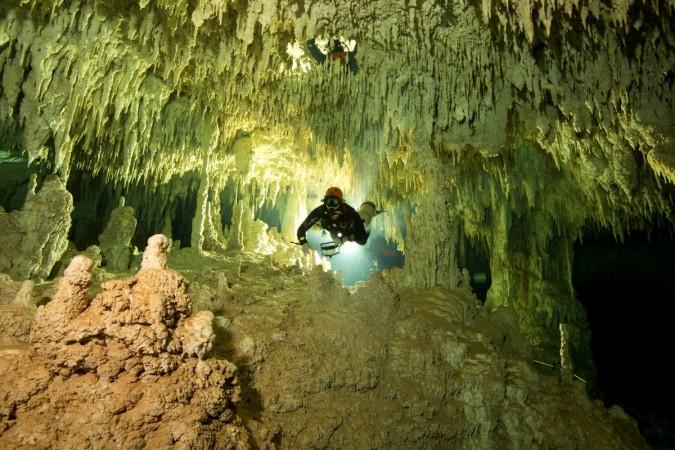 Writing on the website Great Mayan Aquifer, the explorers revealed they found the following things:
The cave is dominated by remains of the Mayan civilisation
Evidence of the first settlers of America
Extinct fauna
Maya archaeology
Maya ceramics
Maya graves
"We've recorded more than 100 archaeological elements: the remains of extinct fauna, early humans, Maya archaeology, ceramics, and Maya graves," de Anda told the Mexican media. "It's a tunnel of time that transports you to a place 10,000-12,000 years ago."
Describing it as an "amazing" find, de Anda told Reuters, "[the discovery] allows us to appreciate much more clearly how the rituals, the pilgrimage sites and ultimately the great pre-Hispanic settlements that we know emerged."
Through the exploration, the divers also found a new system — an 11-mile-long and 66-foot-deep cavern dubbed "the mother of all cenotes." This was earlier listed as an individual system.
However, now the team claims it is extremely close to connecting the marvellous underwater treasure with the San Actun System.
The divers will now attempt to analyse the water quality of the Sac Actun System and study the biodiversity that directly depends on this aquifer. The plan also includes adequate conservation of the new found treasure.