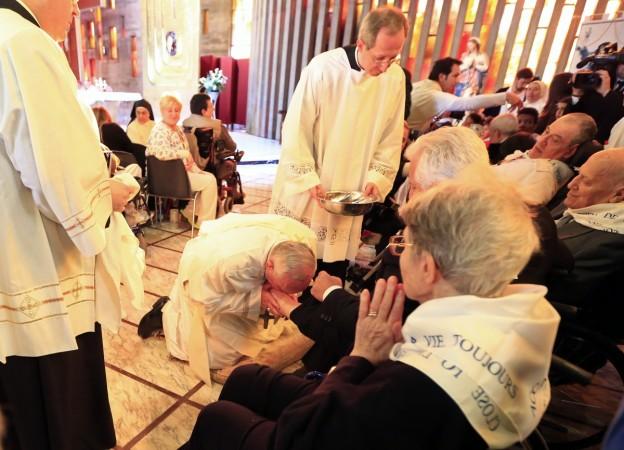 Maundy Thursday, also known as Holy Thursday, is a part of Holy Week and falls on the Thursday before Easter. Christians observe the day to commemorate Jesus Christ's last supper with his apostles prior to his crucifixion.
This year, Maundy Thursday will be observed March 29, a day before Good Friday.
Most Christian denominations hold special services on the day, and some churches like Catholic and Anglican commemorate Jesus Christ's last supper by celebrating the Eucharist or holy communion with the faithful in the evening.
Several Christian denominations also observe Holy Thursday by washing the feet of 12 parishioners, just as Jesus Christ washed the feet of his 12 apostles. The Pope, the head of Catholic church, washes the feet of common people on this day every year.
Maundy Thursday 2018 inspirational quotes and sayings
When you look at the Crucifix, you understand how much Jesus loved you then. When you look at the Sacred Host you understand how much Jesus loves you now" - Mother Teresa
The washing of the feet and the sacrament of the Eucharist: two expressions of one and the same mystery of love entrusted to the disciples, so that, Jesus says, "as I have done... so also must you do" - Pope John Paul II
If we but paused for a moment to consider attentively what takes place in this Sacrament, I am sure that the thought of Christ's love for us would transform the coldness of our hearts into a fire of love and gratitude" - St. Angela of Foligno
The Eucharist is the Sacrament of Love; It signifies Love, it produces Love" - Saint Thomas Aquinas
It would be easier for the world to survive without the sun than to do so without the Holy Mass" - Saint Padre Pio
I hunger for the bread of God, the flesh of Jesus Christ ...; I long to drink of his blood, the gift of unending love" - St. Ignatius of Antioch
Earth's saddest day and gladdest day were just three days apart!" - Susan Coolidge
Holy Thursday 2018 Bible verses
Now as they were eating, Jesus took bread, and after blessing it broke it and gave it to the disciples, and said, "Take, eat; this is my body." And he took a cup, and when he had given thanks he gave it to them, saying, "Drink of it, all of you, for this is my blood of the covenant, which is poured out for many for the forgiveness of sins. I tell you I will not drink again of this fruit of the vine until that day when I drink it new with you in my Father's kingdom" - Matthew 26:26-29
Jesus said to him, "I am the way, and the truth, and the life. No one comes to the Father except through me" - John 14:6
In the days of his flesh, Jesus offered up prayers and supplications, with loud cries and tears, to him who was able to save him from death, and he was heard because of his reverence" - Hebrews 11:1
A new command I give you: Love one another. As I have loved you, so you must love one another" - John 13:34