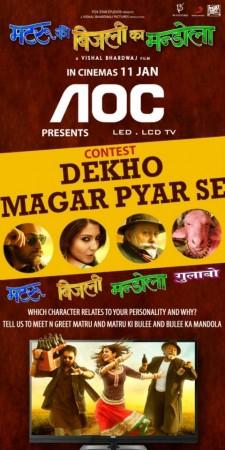 Vishal Bhardwaj's latest romantic comedy film "Matru Ki Bijlee Ka Mandola" is performing on a dull note at overall box offices. The movie made ₹22.42 crore during its opening weekend in India.
Despite receiving rave reviews, the movie is not up to the mark at collection windows. Released across 1850 screens in India, it features Pankaj Kapoor, Anushka Sharma and Imran Khan in the lead roles.
The opening weekend break of the movie is: Thursday previews + Friday ₹7.02 crore, Saturday ₹7.40 crore and Sunday ₹8 crore.
"Our country is going through a massive transition. I wanted to make a film about the social and political scene in the country, but wanted to do it in a humorous tone. The response from the public and especially the young adults, has made me realise that Indian audiences are open to satire that does not always state the obvious," Bhardwaj said in a statement, according to IANS.
On a positive note, the opening day and first weekend collections of "Matru Ki Bijlee Ka Mandola" was much better than Bhardwaj's other directorial movie.
"MKBKM" also faced competition from Punjabi, Telugu and Tamil films which were released on the same day. It is expected to rake in some good figures on Monday due to Makar Sankranti and Pongal holidays.
The film also failed to attract audiences at the overseas box offices. During its opening weekend it raked in approximately ₹3.71 crore. It performed well at USA box offices, while in the other key markets the business remained dull.
The overseas breakup of the film is: UK ₹85.24 lakhs (£96,410), USA ₹1.85 crore ($338,726), Australia ₹36.51 lakhs (A$63,213), New Zealand ₹9.21 lakhs (NZ$20,039) and Fiji ₹5.13 lakhs (FJD 16,533).
Vishal Bhardwaj is the director, producer and music director of the film. The film also features Arya Babbar and Shabana Azmi in supporting roles.