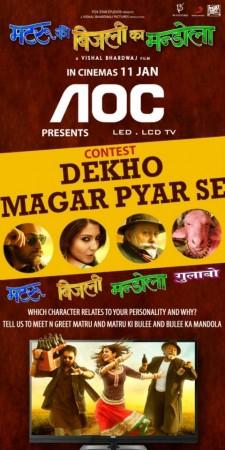 Last week's release, "Matru Ki Bijlee Ka Mandola", was expected to be the first hit film of the year. However, the film fell below expectations.
The film completed its first week on a dull note by earning ₹41.13 crore from Indian and overseas box offices. Rave reviews from critics and positive word of mouth also couldn't increase film's box office earnings.
The film starring Pankaj Kapoor, Anushka Sharma and Imran Khan in the lead roles grossed ₹33.17 crore in India and ₹7.96 crore internationally.
The first week break of the film is: Thursday previews + Friday ₹7.02 crore, Saturday ₹7.40 crore, Sunday ₹8 crore, Monday 4.10 crore, Tuesday 2.55 crore, Wednesday 2.20 crore and Thursday 1.90 crore.
"#MatruKiBijleeKaMandola [Overseas] $ 1.47 million [Rs 7.96 cr] ... UK $ 224,000, USA $ 405,000, Middle East + GCC $ 455,000, Rest $ 392, 000," trade analyst and film critic Taran Adarsh tweeted.
Keeping in mind that the film was a Vishal Bhardwaj project with veteran actor Pankaj Kapoor in the lead role, there were huge expectations that the satirical comedy film will dominate the box offices.
But the business of the film was below average. It performed well in North India but fell falt in other key markets, especially in the South.
"The film sustained reasonably well till Monday, but slided downwards from Tuesday onwards. However, the returns from non-theatrical avenues might help recover the investment," Adarsh said.