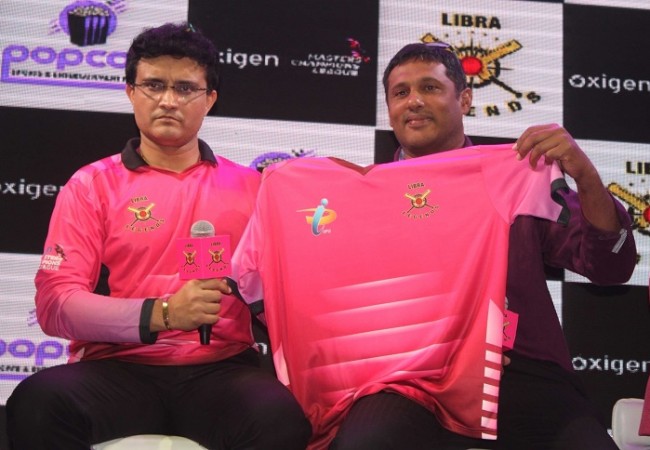 Masters Champions League (MCL) T20 2016 will start in another three days time and the cricket fans around the world cannot wait to see their favourite players, who have retired from the game, in action.
MCL 2020 is a similar initiative like Sachin Tendulkar and Shane Warne's Cricket All Star Series, which took place in the United States of America (USA) in November 2015. The two legends will not be a part of the upcoming T20 extravaganza, but the excitement among fans is on the rise. The only difference between the two tournaments is Cricket All Stars showcased only three matches and MCL 2020 2016 will have 18 matches including the two semifinals and the big final.
Six teams will battle it out against each other for the trophy. The teams -- Gemini Arabians, Libra Legends, Capricorn Commanders, Leo Lions, Virgo Super Kings and Sagittarius Strikers -- will showcase a galaxy of retired international cricket stars.
Sourav Ganguly's Libra Legends will play the opening game against Virender Sehwag's Gemini Arabians on 28 January, Thursday.
Adam Gilchrist, Brian Lara, Jacques Kallis, Kumar Sangakkara, Mahela Jayawardene, Saqlain Muhstaq, Muttiah Muralitharan and many more stars from the world of cricket will be featuring in this tournament for six different teams.
All the 18 matches will be played in two stadiums in United Arab Emirates' Dubai International Cricket Stadium and Sharjah Cricket Stadium.
The semi finals and the final will be played at the Dubai International Stadium on 13 February.
MS Dhoni was roped in as the brand ambassador of the MCL 2020 to promote the ticket sales for the tournament.
The ticket are already on sale and click on the link below to get your hands on the tickets and witness your favourite cricketers in the UAE: MCL 2020 Tickets
Complete Schedule for Masters Champions League T20 2016:
DAY
DATE
MATCH
TIME
TEAM
TEAM
VENUE
THURSDAY
28-Jan-16
1
7.30pm
LIBRA
LEGENDS
GEMINI
ARABIANS
Dubai
Friday
29-Jan-16
2
3.00pm
CAPRICORN
COMMANDERS
LEO
LIONS
Dubai
3
7.30pm
VIRGO
SUPER KINGS
SAGITTARIUS
STRIKERS
Dubai
Saturday
30-Jan-16
4
3.00pm
GEMINI
ARABIANS
LEO
LIONS
Dubai
5
7.30pm
SAGITTARIUS
STRIKERS
CAPRICORN
COMMANDERS
Dubai
Wednesday
3-Feb-16
6
3.00pm
LIBRA
LEGENDS
VIRGO
SUPER KINGS
Sharjah
7
7.30pm
GEMINI
ARABIANS
CAPRICORN
COMMANDERS
Sharjah
Thursday
4-Feb-16
8
3.00pm
LIBRA
LEGENDS
SAGITTARIUS
STRIKERS
Sharjah
9
7.30pm
LEO
LIONS
VIRGO
SUPER KINGS
Sharjah
Friday
5-Feb-16
10
3.00pm
SAGITTARIUS
STRIKERS
GEMINI
ARABIANS
Sharjah
11
7.30pm
CAPRICORN
COMMANDERS
LIBRA
LEGENDS
Sharjah
Saturday
6-Feb-16
12
3.00pm
GEMINI
ARABIANS
VIRGO
SUPER KINGS
Sharjah
13
7.30pm
LEO
LIONS
SAGITTARIUS
STRIKERS
Sharjah
Sunday
7-Feb-16
14
3.00pm
VIRGO
SUPER KINGS
CAPRICORN
COMMANDERS
Sharjah
15
7.30pm
LIBRA
LEGENDS
LEO
LIONS
Sharjah
Thursday
11-Feb-16
16
7.30pm
SEMI FINALS 1
Dubai
Friday
12-Feb-16
17
7.30pm
SEMI FINALS 2
Dubai
Saturday
13-Feb-16
18
7.30pm
FINAL
Dubai