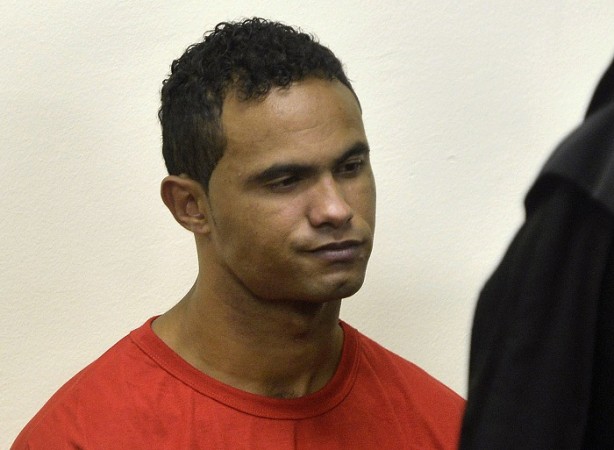 Former Corinthians and Flamengo goalkeeper Bruno, who was sentenced to 22 years in prison for ordering the murder of his girlfriend and then feeding her to his dogs, was recently signed by second tier Brazilian side Boa Esporte.
The 32 year old only served seven years of his 22-year sentence, before coming out and his signing has caused a lot of outrage among football fans in Brazil. Popular Feminist Front of Varginha are planning a protest outside Boa Esporte's stadium, accusing the club of trying to cash in on Bruno's fame while forgetting the suffering of his victim.
"We protest both against this contract and against the willingness of the team and its sponsors to have their images linked to feminised. A woman-killer must not be allowed a life acclaimed by the media. Bruno is no longer just a goalkeeper; his notoriety reflects the ease with which a woman's life is forgotten in the interests of a sporting career," their Facebook post stated.
After his release from prison in February, Bruno appeared on a TV interview in Brazil and said that this experience will help him grow and that it was not a punishment.
"I want to make it clear that even if I stayed here and was given life imprisonment, for example, in Brazil, it would not bring the victim back. I paid dearly, it was not easy. This will help me as an experience. It has been a learning experience, not a punishment," Bruno said.
Bruno was tipped for greatness when he was playing for Flamengo, where he also won the Brazilian league and was linked with a mega money move to teams like AC Milan and Barcelona. He was also expected to be Brazil's No.1 goalkeeper for the forseeable future.
Boa Esporte have certainly caught the attention of football fans from all over the world after they signed Bruno to a two-year deal. As a result, they have also lost some of their key sponsors in CardioCenter, Nutrends Nutrition and Magsul. Their biggest sponsor, a holding company called Gois and Silva, whose president initially backed Bruno, dropped out amid mounting pressure.
The teams' fans are also worried about the fact that their team might lose its television rights as Bruno still has two thirds of his sentence to serve.
"In Brazil we do not condemn people to death or to prison forever. Therefore, when a prisoner is released, they can find means of forming part of society; working and gaining dignity through work," said Rone Moraes da Costa, owner of the club, in a statement on their Facebook page.
Bruno is said to have completed his medical with the club yesterday and is expected to give a press conference later today.