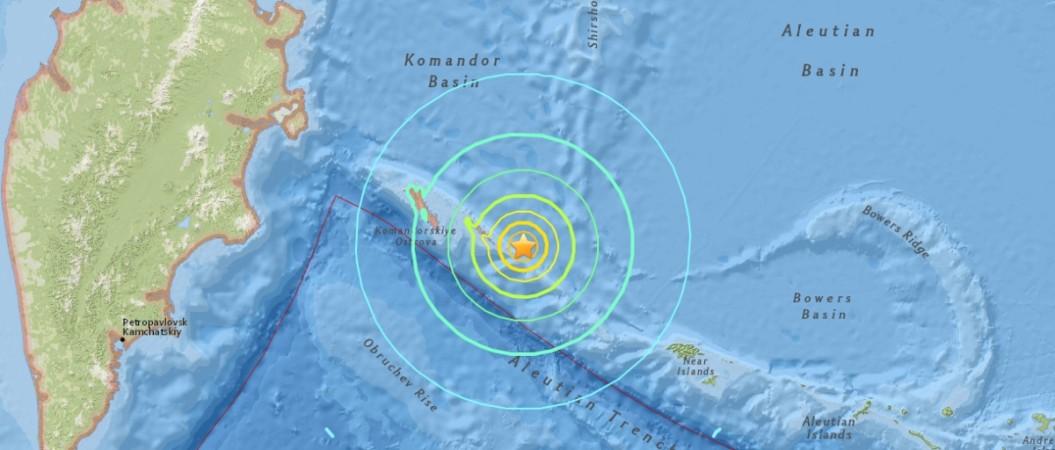 A 7.8 magnitude earthquake rocked the eastern coast of Russia on Tuesday forcing authorities to issue a tsunami threat in parts of the Pacific. However, the tsunami threat has now passed, the United States Geological Survey (USGS) and the US Pacific Tsunami Center said.
The quake, which struck at a depth of 11.7 km at 23:34 GMT, hit 199 kilometres east-southeast of Nikol'skyoe in Russia, USGS said. Waves were forecast at less than 0.3 metres to a foot above the tide level for coasts in an area ranging from Russia to Hawaii, the US Pacific Tsunami Warning Center said.
"Based on preliminary earthquake parameters... hazardous tsunami waves are possible for coasts located within 300 km (186 miles) of the earthquake epicentre," the US Pacific Tsunami Warning Center said. However, it later said that the available data suggested the tsunami threat had passed.
The quake occurred on Bering Island off the coast of Kamchatka Peninsula in Russia. The epicentre was west of Attu, the westernmost and largest island in the Near Islands group of Alaska's remote the Aleutian Islands, Reuters reported. It was initially said to be a 7.7 magnitude quake on the Richter scale before being revised to 7.4 magnitude and then finally being increased to 7.8 magnitude.
The US Pacific Tsunami Warning Center said that the earthquake was shallow and that there were no reports of any casualties or injuries or damage to property as it occurred extremely far from the mainland.
The quake was followed by several aftershocks, a couple of them being above 5.0 magnitude.
Tsunami Info Stmt: M7.4 140mi SE Bering I., Komandorski 1634PDT Jul 17: Tsunami NOT expected; CA,OR,WA,BC,and AK

— NWS Tsunami Alerts (@NWS_NTWC) July 17, 2017
Tue Jul 18 01:09:10 UTC 2017 event picture pic.twitter.com/rnJnbps0V3 — NWS Tsunami Alerts (@NWS_NTWC) July 18, 2017
Prelim M7.4 earthquake Komandorskiye Ostrova, Russia region Jul-17 23:34 UTC, updates https://t.co/hyKRH6N13X

— USGS Big Quakes (@USGSBigQuakes) July 17, 2017