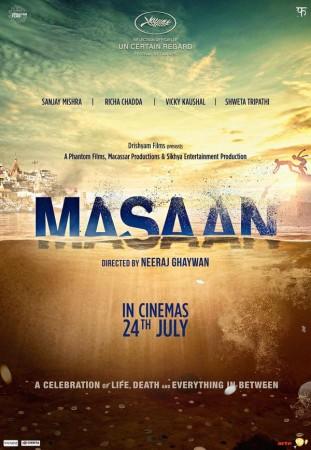 The poster of Richa Chadda's most awaited film "Masaan" was revealed on Tuesday. The film garnered recognition at the 68th Cannes Film Festival, where several movies from across the globe were screened, including another Indian film "Chauthi Koot".
"Masaan", which will hit theatres on 24 July, received a five-minute-long standing ovation along with great appreciation from the jury at Cannes.
Recently, the makers released its first official poster online and the trailer is set for a 26 June release.
Our new poster of @MasaanTheFilm is here! Official Indian trailer will be out this friday! pic.twitter.com/1REvLF0qoh

— Neeraj Ghaywan (@ghaywan) June 23, 2015
Good things come to those who wait. Meet Vidyadhar Pathak, Devi and Jhonta in the #Masaan trailer, this Friday! pic.twitter.com/zSbQ7dQbyl — Masaan (@MasaanTheFilm) June 24, 2015
Neeraj Ghaywan, who assisted Anurag Kashyap in "Gangs of Wasseypur", has directed this film which features Richa Chadha, Sanjay Mishra, Shweta Tripathi and Vicky Kaushal in prominent roles.
"Masaan" is a joint production of Manish Mundra (Drishyam Films), Macassar Productions, Sikhya Entertainment and Phantom Films.
The film revolves around two parallel stories: the first is about a boy from a lower caste, who works at a crematorium (also called Masaan) in Varanasi, falling in love with an upper caste girl; and the other is about an upper caste girl (Richa) and her father (Sanjay Mishra) dealing with a sex scandal.