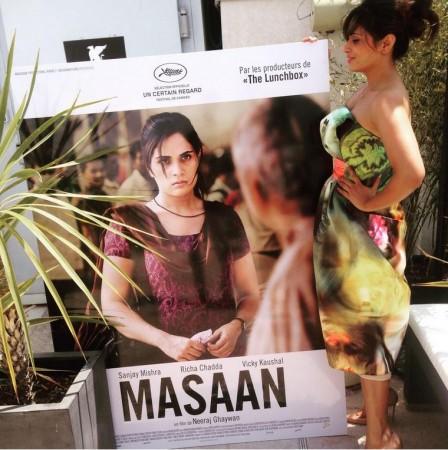 It is a matter of great honour for Indian films to achieve recognition at the ongoing 68th Cannes Film Festival, where several movies from across the globe are being screened.
This year, two Indian films, "Masaan" and "Chauthi Koot", have been selected in the Un Certain Regard category at the Cannes Film Festival.
"Masaan" was unveiled on Tuesday, 19 May, and it received a five-minute-long standing ovation along with great appreciation from the jury.
Debutante director Neeraj Ghaywan, who has assisted Anurag Kashyap in "Gangs of Wasseypur", talked about "Masaan", which is set in Varanasi, during an interview with IBN Live.
"It is about the people living in small towns in India and their attempt of escaping the conventional mindset, the rigid social structure," the director said.
Speaking about his reluctance in working with stars, Ghaywan said: "I was not keen on making a film with stars. A star comes with a certain image which is hard to brush off and my film has a lot of naked reality which I wasn't sure if a star's presence could justify. Since the film is set in Varanasi, I was very particular about the accent, the mannerisms and I preferred actors more than stars for such a script."
"Masaan" features Richa Chadha, Sanjay Mishra, Shweta Tripathi and Vicky Kaushal in prominent roles. Written by Ghaywan and Varun Grover, the film has been produced by Anurag's Phantom Films.
"Masaan" revolves around two parallel stories: the first is about a boy from a lower caste, who works at a crematorium (also called Masaan) in Varanasi, falling in love with an upper caste girl; and the other is about an upper caste girl (Richa) and her father (Sanjay Mishra) dealing with a sex sandal.
Overwhelmed by the response, Bollywood celebs react on twitter:
Got teary at the 5 minute long standing ovation. Thank you everyone. @ghaywan, first thanks to you. pic.twitter.com/dFhoRNoafn

— RichaChadha (@RichaChadha_) May 19, 2015
Broke down at the unstoppable applause. Thanks everyone! Missed you so much @anuragkashyap72, editor @nitin_baid, DP @avinasharun20! #Masaan — Neeraj Ghaywan (@ghaywan) May 19, 2015
Really proud moment for India #Masaan #Cannes2015 Applause went on for five mins! @ghaywan & @richachaddha teared up. pic.twitter.com/7LAHuDSnN2

— Sudhish Kamath (@SudhishKamath) May 19, 2015
Masaan!!! Cannes. Amazing. Feeling blessed!!!!! pic.twitter.com/MQDDFenrdS — Manish Mundra (@ManMundra) May 19, 2015