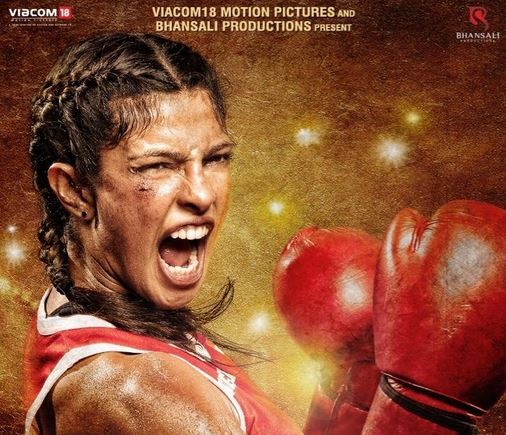 "Mary Kom" starring Priyanka Chopra had a decent opening day at the domestic box office, as it was released in limited screens.
The sports biopic, produced by Sanjay Leela Bhansali, was released in over 1500 screens in India. Screen count in multiplexes is comparatively better than single screens and hence the film fared in decent amount on day one.
But in mass circuits the first day business of "Mary Kom" was below the mark, according to Box Office India.
From the foremost day, the film accumulated around 8.5 crore, beating Kareena Kapoor Khan's "Heroine" (6.94 crore) first day figure. The first day box office collection of "Mary Kom" is also the 12th highest of 2014.
The film fared well mostly in multiplexes of metro cities, but the business in North circuits including UP, Rajasthan, CP Berar, CI, Bihar and Gujarat was comparatively low. Despite being tax free in UP, the film failed to pull crowd in the state on day one.
In Maharashtra and Assam the film performed pretty well due to tax free status. In international market the film fetched in around 34 lakhs from the US box office and 16 lakh from the UK, according to Bollywood Hungama.
The business of the film will improve during the weekends as the buzz on social media is strong. The film has received rave reviews from critics and also from moviegoers.
Several people took to Twitter to praise Chopra's performance as the Olympic gold medalist boxer Mangte C. Mary Kom.
Below are few tweets praising Chopra's performance:
"And this is just the interval #MaryKom Priyanka is the best thing so far. Film is good too."
"Nobody could have done justice to #MaryKom other than you @priyankachopra. Loved every bit of it !! Well done team behind it. Inspirational!"
"#MaryKom @priyankachopra the Best Biopic i hav ever witnessed in indian cinema so far. heart wrenching performance from PC. Watch it 4 heart"
"@priyankachopra loved your role in the movie Mary Kom and loved the movie too! #MaryKom"
"Such an awesome movie!!!!! Can't believe it's a true story!!!! @priyankachopra has acted so well!! Second half."