Netflix has finally released the teaser of its upcoming superhero ensemble, The Defenders, after three and a half years since it was first announced. The makers also revealed the premiere date of the Marvel series in the short teaser.
Also read: Marvel's Jessica Jones: When will season 2 premiere on Netflix?
In the 15-second teaser titled Midland Circle Security Elevator B, we can see four of Marvel's street level heroes together -- Daredevil (Charlie Cox), Jessica Jones (Krysten Ritter), Luke Cage (Mike Colter) and Iron Fist (Finn Jones). The video is shot like a CCTV footage inside an elevator in the Midland Circle building, which was shown in Daredevil season two and was under construction then.
You must be wondering about the premiere date so here's the real puzzle. If you watch the teaser carefully, the four Marvel superheroes seem to be going down from the 45th floor and the only sound we can hear in the elevator is Finn Jone's Iron Fist trying to catch his breath. Suddenly Jessica Jones turns the CCTV camera and the time stamp on the upper right-hand corner of the video stops at "8:18:20:17". Hence, Marvel's The Defenders is set to premiere on Netflix on August 18 (8.18.2017) this year.
There is another Easter egg hidden in the trailer. In the short clip, there is a set of numbers in the upper left corner which reads: "ip/dns //: 23.253.120.81". It is apparently an IP address, which if entered on the web browser as http://23.253.120.81, takes users to a viral website for the New York Bulletin, the news outlet where Deborah Ann Woll (Karen Page) is employed. And, it is mentioned at the very bottom of the page — "Watch Marvel's The Defenders All Episodes Streaming Only on Netflix August 18."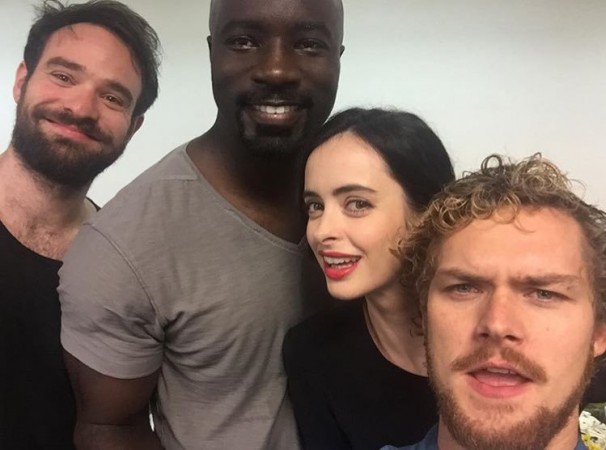 The Defenders features Charlie Cox as Daredevil, Krysten Ritter as Jessica Jones, Mike Colter as Luke Cage and Finn Jones as Danny Rand/Iron Fist. On the other hand, Elden Henson will be reprising as Foggy Nelson along with Deborah Ann Woll as Karen Page, Eka Darville as Malcolm, Carrie-Anne Moss as Jeri Hogarth, Scott Glenn as Stick, Jessica Henwick as Colleen Wing, Elodie Yung as Elektra, Rachael Taylor as Trish Walker, Simone Missick as Misty Knight, and Rosario Dawson as Claire Temple. Sigourney Weaver will play the villain in the series.
Another superhero series by Marvel The Punisher will also premiere this year on Netflix.