Keep calm, Marvel fans! The Defenders will premiere on Netflix on August 18. The eight-episode series, which is a crossover of Marvel's four street-level superheroes Jessica Jones, Luke Cage, Iron Fist and Daredevil, will have only eight episodes instead of 13.
Also read: Marvel's The Defenders episode 1 clip teases Daredevil's superheroic return [VIDEO]
Marvel has already released a trailer and a clip from the first episode of the series. In the clip, we see Daredevil aka Matt Murdoch going to a confession booth and the priest asks him, "Matthew I wanna talk frankly, this other life you led is your heart still with it? or is it with the one who walked through it by your side?"
In response to that, Murdoch replies, "Elektra, yeah. I do miss her but how do I know if the things she brought out in me were wrong? Maybe she'd tell me I'm abandoning that life and with it, her memory."
Marvel-Netflix series The Defenders follows Daredevil (Charlie Cox), Jessica Jones (Krysten Ritter), Luke Cage (Mike Colter) and Iron Fist (Finn Jones). A quartet of singular heroes with one common goal – to save New York City. This is the story of four solitary figures, burdened with their own personal challenges, who realise they just might be stronger when teamed together.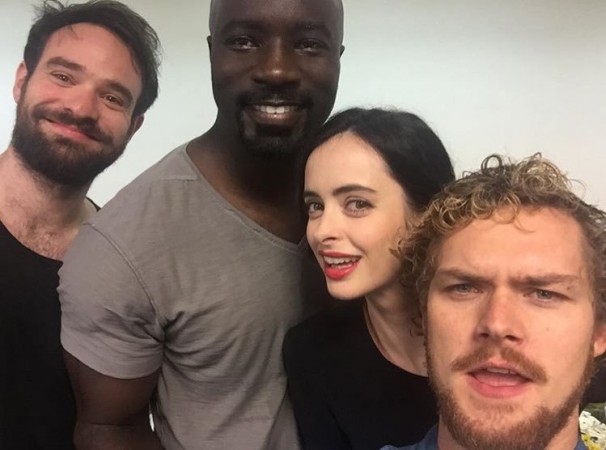 Ahead of its premiere in August, the early reviews have already arrived. And, here's what the critics are saying.
The Washington Post
You're probably wondering how well Iron Fist fits in on this new show because his namesake series was the first Marvel Entertainment product in some time to receive less-than-positive reviews from critics and fans. But this isn't "Iron Fist." It's "The Defenders." When Rand is teamed up with Cage, the moments feel as cool as they were intended to be — and Rand has a much better haircut this time around.
Collider
The solo series is distinctive enough that whether or not you ultimately like them is based on personal preference. However, there is still an order to them based on overall quality, which I think starts with Jessica Jones, the most taught and immediately engaging of the four. Daredevil, which started it all and set this world in a very visually distinct place, comes afterwards, and Luke Cage places third (it had a fantastic opening few episodes, and then a terrible rest of the season).
Coming Soon
One thing that stood out was the colour. Yeah, I know that usually when you mention things like lighting, it's because the rest of the show was boring. Not so, despite my few complaints. As fans who've watched the other shows know, each character has a colour that is used in the lighting, for instance, Jessica's predominant colour is purple. In The Defenders, when we see the characters solo, we see their particular colour. When they finally join forces in a restaurant, all the colours are mingled in the background. Interestingly, Alexandra is constantly swathed in clothing and surroundings that are white, silver, grey and a little gold. The whole thing is a clever nod to the comic book origins of the characters.
CNET
Each hero brings a fresh perspective to the table and it's those differences that contribute to making "The Defenders" one of the best Marvel shows to experience.
Watch the trailer for The Defenders here.