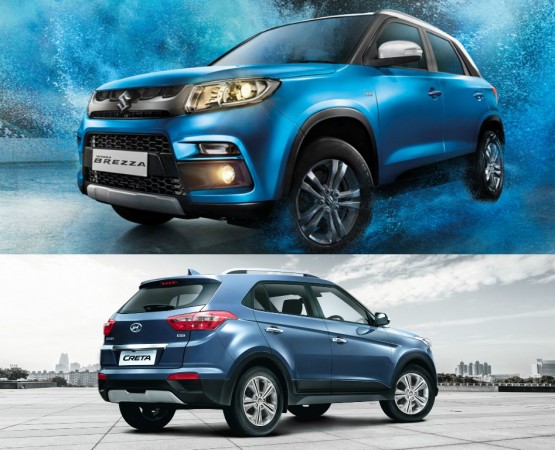 Sales in the SUV segment in India saw a significant change after the launch of two vehicles â€" Hyundai Creta and Maruti Suzuki Vitara Brezza. With the arrival of these two models, Mahindra Bolero has lost its ground. The Mahindra product was the best-selling SUV consecutively for the past 11 years. However, 2016 will see the Vitrara Brezza and the Creta battling it out for the top spot.
Maruti Suzuki Vitara Brezza was launched in March 2016. Despite being just five months old, the first compact SUV of the company has now become the best-selling SUV in India. Maruti Suzuki sold 9,554 units of the Vitara Brezza in August as against a correspondent figure of 8,450 for Hyundai India.
The Vitara Brezza was also the best-selling UV in July, with 10,232 unit sales. July sales were marked as the best month for sales of the SUV so far. Hyundai sold 7,981 units of the Creta in the domestic market in July. In June, Vitara Brezza's sales stood at 6,673 units while Hyundai Creta found 7,700 takers.
In April and May, Maruti Suzuki sold 7,832 and 7,193 units of the Vitara Brezza, respectively. On the other hand, Hyundai Creta found 7,900 and 7,257 takers. The pattern indicates that the sales of the Vitara Brezza are in top gear while Hyundai Creta sales average 7,500 units.
It is also notable that Maruti Suzuki sells Vitara Brezza on diesel-only powertrain mated to five speed manual transmission only. Hyundai Creta is available in two diesel and one petrol engine options in combination of manual and automatic transmission.
Hence, it is evident that Vitara Brezza has an edge over the Creta. Maruti Suzuki is also planning to launch Vitara Brezza petrol version and automatic gearbox-equipped version soon. This is expected to boost the sales significantly and will extend its lead over the Hyundai Creta.