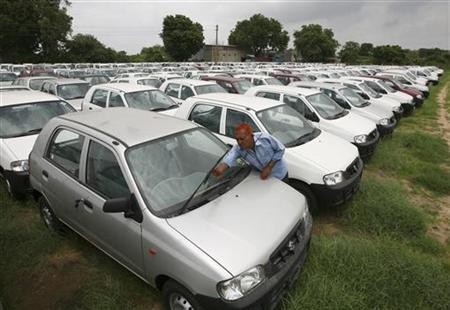 Maruti Suzuki, India's largest passenger car maker, registered a 10.7 percent dip in total sales for the month of November.
The company on Monday said the total vehicle sales stood at 92,140 units, as against the 1, 03,200 units in the corresponding month last year. The domestic sales of the company plunged to 85,510 units in November, when compared to the 90,882 units in the same month last year.
Maruti's mini passenger and super compact segments witnessed growth in November, when compared to last year. It posted a 3.7 percent jump in sales of its mini-car segment, which includes vehicles like M800, Alto, A-Star and WagonR, in November, as against 36,679 units last year. In the super-car segment, Maruti saw a growth of 13.2 percent, from 13,502 units last year. Other segments of the company also registered a dip in sales. Its export dipped 46 percent dip with 6,630 units in November, as compared to 12,318 units in the same period last year.
Sales of the mid-sized sedan SX4 saw a decline of 71.1 per cent at 200 units, as against the 692 units last November. Compared to the sales of 71 last year, the company could sell only one unit of the Kizashi luxury car. In the van segment, Omni and Eeco marked a decline of 7.3 percent, as against the 12,318 units a year ago.
Among other auto makers, Hyundai Motor India Ltd also witnessed a plunge in sales in November. The company recorded a 10.9 percent fall in its total sales in the month, as against 55,762 units in the corresponding period last year.