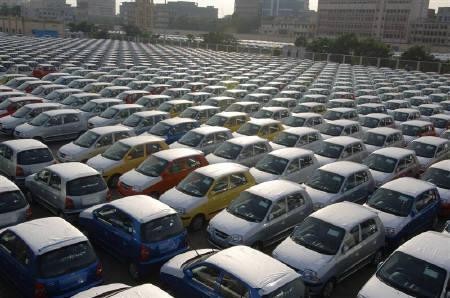 Indian carmakers are reportedly considering a price hike for all their vehicles on the back of higher input costs and a weakening rupee.
Mahindra & Mahindra, Tata Motors, Honda Cars India and Renault India are the auto majors currently mulling over increasing the price of vehicles in the domestic market from April 2014.
"We are actively contemplating increasing the prices of our vehicles in April due to increase in input and operational costs," Mahindra & Mahindra Chief Executive (Automotive Division) Pravin Shah told PTI.
Maruti, the country's largest carmaker, is also said to be planning a similar hike for its vehicles in India. Speaking to Economic Times, Mayank Pareek, chief operating officer for marketing and sales at Maruti, said: "As we enter into a new fiscal year, we are closely looking at the cost pressures."
However, the companies are yet to decide on the quantum of the hike. Reports suggested that Tata is likely to increase the prices by one to two percent.
In February, carmakers like Maruti, Honda, Tata and Mahindra had slashed the car prices in India, following excise duty reduction announced in the interim budget 2014-15. However, the price cut did not make the sales any better and the auto market in India continues to reel under sluggish demand.
As per the latest budget, the excise duty of small cars, motorcycles, scooters and commercial vehicles in India has been cut down to 8 percent from 12 percent, while the excise duty of Sports Utility Vehicles (SUVs) has gone down to 24 percent from 30 percent.
While Mahindra slashed the prices of its passenger vehicle portfolio, ranging from ₹13,000 to ₹ 49,000, Maruti price cut stood at ₹8,197 to ₹30,984.