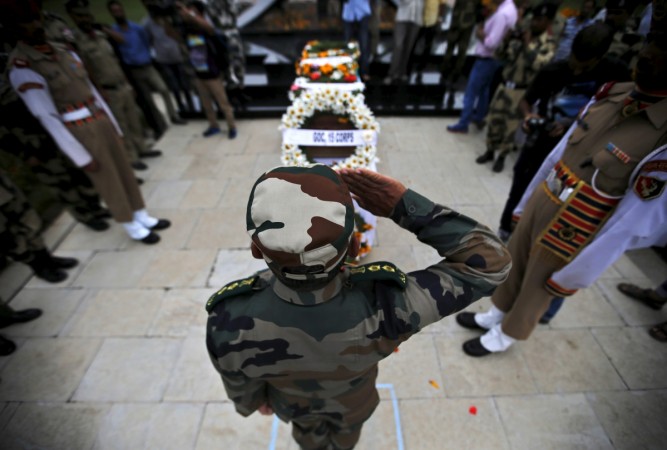 Ahead of Prime Minister Narendra Modi's visit to Ludhiana on Tuesday, a widow has returned her martyred husband's Sena Medal to the Punjab government so that it can be handed over to the PM.
An inconsolable Surinder Kaur of Nikku Saran village in Punjab's Gurdaspur district returned the medal to Assistant Commissioner (Grievances) Swati Tiwana on Monday. She alleges that the Central government and officials are yet to dispense benefits promised to her after her husband hawaldar Kashmir Singh was martyred in Operation Pawan.
Operation Pawan was the code name assigned to the operation by the Indian Peace Keeping Force (IPKF) to take control of Jaffna from the Liberation Tigers of Tamil Eelam (LTTE), better known as the Tamil Tigers, in late 1987.
Hawaldar Kashmir Singh and 28 other army personnel had attained martyrdom on October 13, 1987. His body was never recovered. Surinder Kaur then single-handedly raised their son and daughter.
The list of promises from 1987, according to Surinder Kaur, includes 10 acres of agriculture land, a petrol pump or a gas agency besides monetary help of Rs 25 lakh and a government job for a member of the family.
Surinder Kaur says that the only thing she has received in the past 29 years is a piece of land for establishing a memorial of her husband.
Assistant Commissioner (Grievances) Swati Tiwana has said that the government will talk to the concerned officers. "I have tried to convince the family not to return the medal as it is the supreme honour. But the family has taken up this step following emotions. We will take up the matter and try to help out the family," Tiwana was quoted saying by the Hindustan Times.
Satnam Singh Dahaliwal, Universal Human Rights Organisation (UHRO) president, said that he found that the government had made no policy for Operation Pawan. In contrast, he pointed out to a policy for martyrs of 1965, 1971 and Kargil wars. Suggesting proof of inconsistency, he also added that the family of Sarabjit, who was killed in a Pakistani jail, received Rs 25 lakh from the Central government, Rs 1 crore from the state government and other benefits.