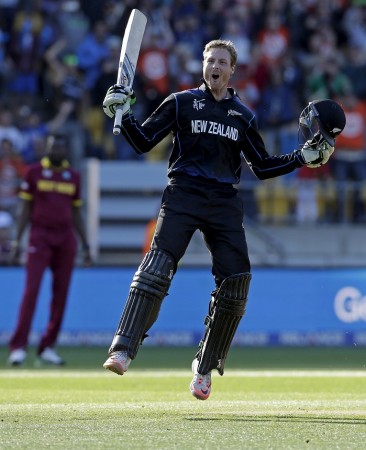 When Chris Gayle scored his first double hundred in the ICC Cricket World Cup 2015 game against Zimbabwe, the feeling pervading through the majority was "ah, about time." However, watching Martin Guptill score what has to be one of the greatest knocks ever in one-day international cricket, and infinitely better and more important than the one Gayle managed, there was that sense of "Am I really seeing this? Is this really happening?"
Indescribable is a word not often used in cricket -- you might use it for an AB De Villiers or a Glenn Maxwell when they play a stroke only they can play and something no-one has seen before. But, this knock was near indescribable, such was the fantasy attached to it.
It all started rather well with a four down the ground, and then there was that drop, before Guptill just did what most openers do, find the gaps, ensure they don't throw their wicket away and try to stay in the middle for as long as possible.
That plan was taking the right path when Guptill got to his century in the 111th ball he faced, and with 15 overs to go, the thoughts of most people watching went to "OK, let's see if Ross Taylor can smack a few, or a little later after that Corey Anderson, Grant Elliott and Luke Ronchi, because Guptill will hold one end up.
Not only did Guptill hold one end up, he plundered, smashed, thrashed and mothered the leather out of the two white balls in an assault which stands right up there with the best of them. From a 100 in 111 balls he went to 237 in 163, that is another 137 runs in 52 balls; plain and simple insane batting.
No matter what the West Indies bowlers did, Guptill found a way to send that ball to the boundary, with a couple even going so far that it landed on the roof. Only one player had ever managed to hit the roof of the Westpac Stadium in Wellington before, and that is Craig McMillan, New Zealand's batting coach, who was grinning from ear to ear watching his ward go nuts.
There were hardly any slogs, most shots, and he hit 11 sixes and 24 fours, were pure cricketing strokes, with the full face of the bat, straight back at the bowler, or calculated hits, picking his spots to perfection.
With these new field restrictions, there is only so much the bowlers can do, but even if there were 11 players in the outfield, patrolling the boundary line, Guptill would have found a way, such was the touch, form and control. It was almost as if he had put a spell on the two white balls before the start of the match to go exactly where he wanted it to go – one white ball went rogue in the third delivery of the match, before falling back under the spell again -- no matter the bowler or the situation.
Rohit Sharma's 264 remains ODI cricket's highest score, and boy was that a great innings. However, to hit a double hundred in a World Cup quarterfinal is another level, and this 237 will and should be considered one of the greatest in the modern-day ODI game, because at the "Cake Tin", Guptill had his cake and ate it too, with utter delight.