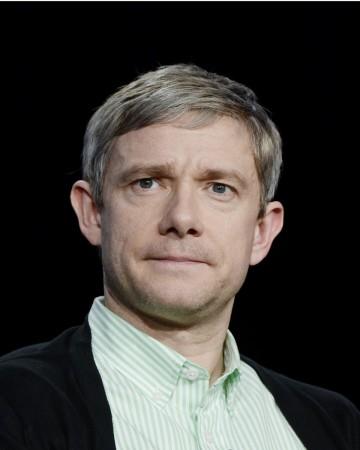 Martin Freeman of the 'Sherlock' fame combined his two fan-favourite projects 'The Hobbit' and 'The Office' on Saturday Night Live this week.
When Freeman hosted SNL, he was asked to put up a bizarre show that combines Bilbo Baggins from 'The Hobbit' and Tim Canterbury from 'The Office'. The skit was titled 'The Office: Middle Earth'.
The theme was that our much-loved Bilbo Baggins returns from his adventurous life to sell reams at a paper company that is run by Gandalf. Gandalf, another 'The Hobbit' character, was being played by SNL cast member Bobby Moynihan.
Baggins' workplace is similar to Tim's. It is an open-plan workplace where Baggins has to work alongside Gollum and an Orc, and is also seen flirting with the half-elven receptionist Kate McKinnon.
It was apparent that Freeman was experiencing the first-time jitters of hosting a show; however, after he introduced himself and his style with ease as well as amusement, there was no stopping him. In his opening monologue he also mentioned that he was relatively unknown in the United States.
He said: "If you don't know me, I'm sort of a funny George Clooney and if you do it's probably as the Hobbit in 'The Hobbit', or from the FX show Fargo. I was also in the original BBC version of 'The Office.'"
Maintaining a poker face and looking at the camera, Freeman said: "What have I been up to? We went on a quest, saved middle earth, became a bit of a hero, did the noble thing and turned down loads of treasure. So, the brave hobbit Bilbo Baggins now works at a paper company, selling paper over the phone, and I drive a Jetta."
Then, he played a prank on Gollum by placing the ring in a mound of jello and keeping it in his drawer. Later we see general manager Gandalf trying to imitate David Brent's dance moves at the Christmas party.
According to Rolling Stone magazine, this week's Saturday Night Live was a fabulous combination of "a wide variety of jokes and sketches, sprinkled liberally with holiday cheer and a dash of wacky weirdness."
The video is below: