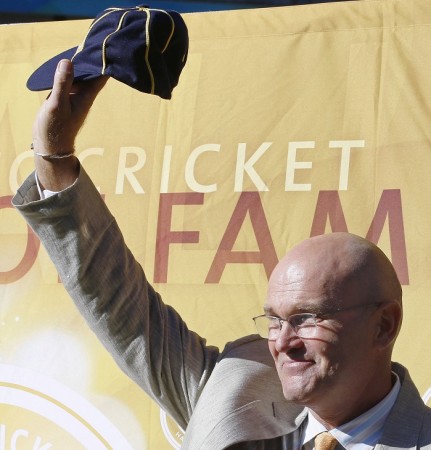 New Zealand bid their final goodbye to the former Black Caps captain Martin Crowe at the Holy Trinity Cathedral in Parnell Friday. The entire funeral was broadcast live and streamed online all over New Zealand.
The funeral was graced by Crowe's wife Lorraine Downes, his brother Jeff Crowe, his former international teammate, Ian Smith, his school friend David Lyle Morris, his cousin and the Hollywood superstar Russell Crowe, amongst thousands of others.
Martin Crowe's last innings came to an end on an emotional note. There were more than 1000 mourners who had come to pay their last tributes to the legendary Kiwi batsman.
Few students from Martin Crowe's former school Auckland Grammar, performed a Haka.
Black Caps cricket chief David White, president Stephen Boock and board member Sir Richard Hadlee, another one of New Zealand's greatest cricketers, were also present at the funeral to bid their final goodbye to arguably New Zealand's best ever batsman.
"I will forever be grateful to my beautiful man. It has been said the amount of grief you feel when someone passes is a direct reflection of how much you loved that person. My grief is huge as was my love for Marty," Downes was quoted as saying by Cricbuzz.
"The hurt and grieving we feel for many of us close to him is because Marty was a wonderful man who loved us well - as a soul mate, a father, a son, a brother and a friend."
"He was afraid to publicly voice his thoughts, and this was sometimes misunderstood. He was the most honest man I have ever met. He wasn't afraid to stand up against injustice."
Jeff Crowe was in Bangladesh for the Asia Cup, as he was the match referee in all the matches and he could not fly down to New Zealand when his brother Martin passed away earlier this month. Jeff Crowe spoke about his brother at the funeral in an emotional speech.
"It never really dawned on me how deep it all went, what a huge splash he made, what an inspiration he was for so many," Jeff was quoted as saying by Cricinfo.
"He noted with some awe and puzzlement Crowe's abilities as a writer. How did he know how to write a truly clever sentence or paragraph. Then I was reminded by our friend Richard Reid, 'unlike you Jeff, he actually attended class, and read a book or two'."
Current New Zealand cricketers Ross Taylor and Martin Guptill came up with video tributes for the legendary batsman. Taylor and Guptill, were both mentored by Martin Crowe.
"He always saw something in my game, even when I couldn't," Taylor said in the video.
Let us walk down the memory lane and remeber the legendary Martin Crowe: