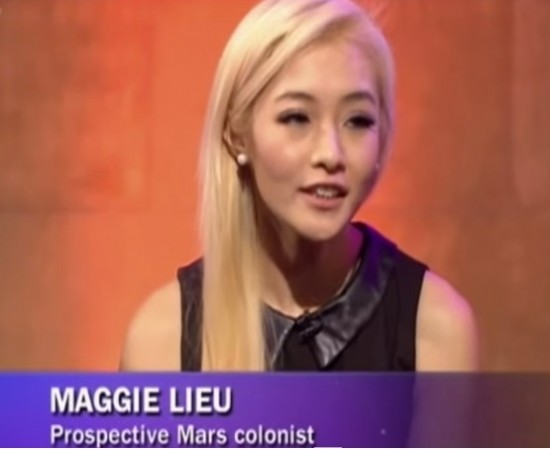 As the ambitious Mars One mission is taking shape, Maggie Lieu, one among the 600 candidates shortlisted for the first one-way trip to the Red Planet, has expressed her desire to be the mother of first Martian baby.
24-year-old Lieu, an astrophysics PhD candidate at Birmingham University, will find out next month if she will be among the 40 people that get trained for the one-way trip to Mars, reports Mirror. The Mars One Mission hopes to set up a permanent human colony on Mars by 2025.
Mars One co-founder Bas Lansdorp, in an interview with Alan Titchmarsh in 2014 (watch video below), had said that in the initial trip, scheduled for 2014 and expected to about $6 billion, four short-listed candidates will be taken on the one-way trip. Lieu could very well be one of them and if she does make it, the astrophysicist will waste no time in colonising the planet.
"To start a colony we would have to have children on Mars, eventually it would happen," she said, according to the Mirror. "It would be challenging, nobody has done any research on giving birth in a low-gravity environment. I think it would be a funny thing because the first child born on Mars would be the first Martian!"
There would be many challenges Lieu would have to battle, as a mother on Mars, including lethal levels of radiation, the dangers of suffocation, starvation and dehydration on top the excruciatingly low temperatures of up to -62 degree celsius.
The group selected to go would be taught everything from medicine and agriculture to plumbing and electronics, as they make Mars their permanent home.
"Everything we need on Earth we would have to create up there... We would need to grow our own food and create our own oxygen," Lieu said.
Even at the prospect of staying so far away from family and friends and the definitively expected delay in communication, Lieu is excited about the Mars One Mission: "I'm looking forward to it more now than when I applied because it is beginning to seem more real."