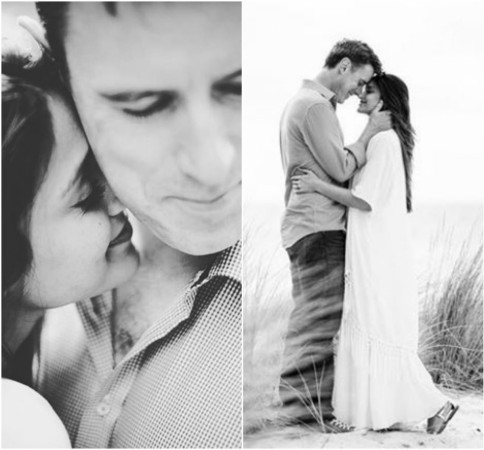 Bollywood actress Ileana D'Cruz is set to appear opposite Ajay Devgn in Raid, whose trailer released earlier today. In the trailer launch event, Ileana was asked about her relationship with photographer beau Andrew Kneebone.
Ileana raised eyebrows when her Christmas 2017 Instagram post's caption read: "My favourite time of the year #christmastime #happyholidays #home #love #family Photo by hubby @andrewkneebonephotography."
While people speculated her to have tied the knots with long-time beau, the diva has recently spilled the beans.
At the trailer launch of Raid, she was asked about the marriage rumours. To which, co-star Ajay Devgn first quipped, "Are you married?" So, Ileana said, "Apparently! I don't know what comment to make. Professionally, I am doing well. Personally, also I am doing well. I am happy both ways."
"Thank you. I don't think there's any comment to be made. I have kept my personal life fairly private. I don't like to talk about it too much. But it's pretty much there for the world to see."
It looks like Ileana wants to keep her personal life password protected while dropping a hint and a clue through her social media posts.
Watch the video from the trailer launch here:
Earlier, in 2016 reports stated that the actress had secretly exchanged wedding vows with Andrew Kneebone in December 2015. But she was not willing to make the news public.
There were rumours that the wedding ceremony was held in Australia and the guests were made to sign a non-disclosure agreement, according to Filmfare.
According to earlier report in Mumbai Mirror, the couple was first spotted together in 2014 and since then, they have been making joint appearances at Bollywood bashes and taking off on long vacations periodically.
While talking to Mirror, Ileana had said: "I am happy, in a great space and doing great films. I have no regrets with respect to my personal life and I enjoy using social media to reveal a fair bit about my personal life and hold back on the rest of it. I don't want to lead a life where I have to explain to people who I am all the time."