The Indian market started rallying on Friday after credit rating agency Moody's Investors Services upgraded India's sovereign bond ratings to 'Baa2' from its lowest investment grade 'Baa3' citing the government' s "wide-ranging program of economic and institutional reforms".
Benchmark indices Sensex and Nifty gained over 370 points and 112 points, respectively, in early trade. Currently, Sensex is hovering around 33,488, while Nifty 50 index is around 10,320.
BSE Mid Cap index and Nifty Bank index also gained about 1.5 percent and 1.7 percent, respectively. BSE BANKEX also gained about two percent, with all listed banks trading in green.
In upgrading the rating for India, Moody's said, "The decision to upgrade the ratings is underpinned by Moody's expectation that continued progress on economic and institutional reforms will, over time, enhance India's high growth potential and its large and stable financing base for government debt, and will likely contribute to a gradual decline in the general government debt burden over the medium term. In the meantime, while India's high debt burden remains a constraint on the country's credit profile, Moody's believes that the reforms put in place have reduced the risk of a sharp increase in debt, even in potential downside scenarios."
In a series of tweets, Union Finance Secretary Hasmukh Adhia welcomed Moody's decision and said: "The path that Government has chosen for long-term reforms and fiscal consolidation is well recognised by investors already. The rating agency too has now confirmed it formally, which is welcome."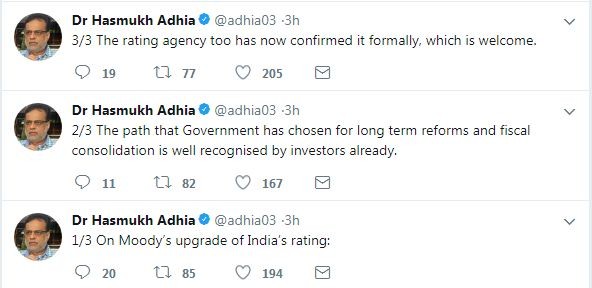 Chief Economic Adviser (CEA) Arvind Subramanian on Friday said that India's sovereign rating upgradation was long overdue. Subramanian said the government would do what it has to do on the domestic front, jobs growth and investment revival, PTI reported.
Moody's move has also been cheered by market participants. Ace capital market investor Rakesh Jhunjhunwala said, "Moody's upgrade is a fitting reply to Modi's critics. The government had given proper direction to the economy and noted that the tax-to-GDP ratio will only improve," BloombergQuint reported.
Market veteran Madhusudan Kela told Economic Times that the development will send an extremely positive signal to various investment community including FIIs.