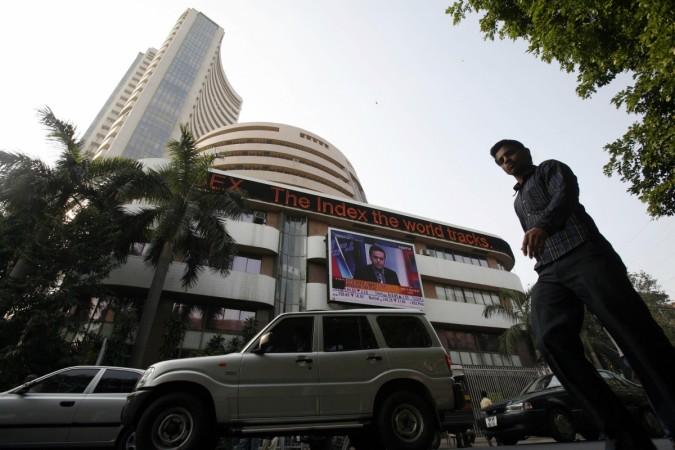 After a weak opening, Indian stock markets rallied sharply during the afternoon session in response to a slew of positive news. Bank stocks were gaining, led by State Bank of India (up 2.86 percent at Rs. 229.85), ICICI Bank (up 2.37 percent at Rs. 269.80) and Maruti Suzuki (up 1.86 percent at Rs. 4,495.70).
Oil stocks such as Hindustan Petroleum Corporation Limited (HPCL), Bharat Petroleum Corporation Limited (BPCL), Indian Oil Corporation (IOC) and ONGC jumped on news that the government is considering a merger of oil companies. HPCL was up 4.17 percent at Rs. 1,217.85, BPCL was up 1.89 percent at Rs. 594, IOC trading 3.29 percent higher at Rs. 538.60 and ONGC at Rs. 225.45, a gain of 1.35 percent.
Indian stock markets commenced the last trading week for July on a subdued note on Monday, even as the Narendra Modi government is all set to place the crucial Goods and Services (GST) Tax Bill in the Rajya Sabha this week. Besides, the F&O expiry for July contracts and June 2016 quarter results of Punjab National Bank on July 28 would influence market sentiments this week.
At around 10.17 a.m., the Sensex was down 14 points at 27,789. Dr Reddy's Labs, Axis Bank, Bharti Airtel and Tata Motors were the top index losers. The NSE Nifty 50 was trading 3 points lower at 8,538.50.
Axis Bank was trading at Rs. 527.95, down 1.79 percent after the private sector lender reported weak first quarter results last week. The bank's net profit fell 21.37 percent to Rs. 1,553 crore (from Rs. 1,978 crore) though total income grew 13.22 percent to Rs. 13,852 crore on a year-on-year basis. Interest income was up at Rs. 11,113 crore from Rs. 9,936 crore in the year-ago period.
The biggest trigger for markets this week would be the tabling of the GST Bill in the Rajya Sabha.
"The Business Advisory Committee (BAC) of the Rajya Sabha has been listed for further consideration and passage, The Constitution (One Hundred and Twenty Second Amendment) Bill, 2014, as passed by Lok Sabha and as reported by the select committee of the Rajya Sabha," the Minister of State for Parliamentary Affairs, Mukhtar Abbas Naqvi, said last week.
A forward movement is expected after Arvind Subramanian, the Chief Economic Advisor to the NDA government, makes a presentation to the empowered committee of state finance ministers on revenue neutral rate (RNR) this Tuesday.
The meeting of the committee is crucial in the context of a possibility of differences narrowing on the RNR. While the government has proposed RNR in the range of about 15 percent, a report submitted by the New Delhi-based think tank National Institute of Public Finance and Policy (NIPFP) has pegged it around 27 percent. The Congress wants the RNR to be capped at 18 percent.
Finance Minister Arun Jaitley is expected to withdraw the contentious 1 percent "manufacturing tax" that was meant for compensating revenues of manufacturing states such as Gujarat, Maharashtra and Tamil Nadu as and when the GST regime kicks in. This has been one of the three demands of the Congress to ensure smooth passage of the Bill in the Rajya Sabha where the ruling NDA does not have a majority. The Congress has also been insisting on a dispute redressal mechanism.
The F&O series for July contracts expires this Thursday.
Updated at 1.55 p.m. with additional details.