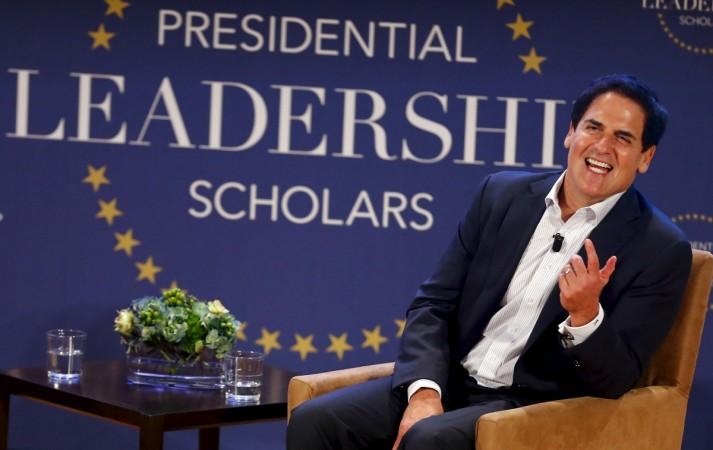 The 2016 Presidential Primaries aren't even half way through but Kanye West, who had announced he would run for the 2020 elections back in 2015, may already have an opponent in businessman Mark Cuban. The Dallas Mavericks owner, who was a guest on "The Late Late Show with James Corden" Episode 167, revealed on the show that he gets asked to run for presidency on a daily basis.
Cuban had appeared on the show with actress Connie Britton on the episode which was aired on March 10, 2016, when he was asked about his "frenemy" and current presidential candidate Donald Trump. Cuban presented a view about Trump that audiences usually do not get to hear on a late night talk show.
Although Cuban began by saying that Trump is not the right guy to run the country, he clarified that there are certain things he likes about the business tycoon. "There are some things I do respect about him. Ted Cruz is all about conforming, right? You got to do it one way... If you're not a conservative, if you're not a true Republican, there is something wrong with you, right? Donald says what's on his mind right?" Cuban elaborated.
Also Read: Check out which Avenger is Chris Evans' 'girlfriend'
Cuban further added that he respects the fact that Trump is the first politician to say what is truly on his mind, even if it is not politically correct."You know who else what's on their mind? My bat-s—t crazy great-grandfather," Britton chimed at that point, adding that she "reeeaaaally" didn't want to hear his opinion about what how to make America great again either.
Cuban clarified that he doesn't agree with 90 percent of what Trump says and wouldn't vote for him with what he is saying currently, but prefers Trump over "Ted Cruzes of the world."
Corden then asked Cuban if he would ever consider running for president, to which the business tycoon replied he doubts it, but he gets asked to that every day. "There's always that chance," Cuban sportingly added before turning to the audience and asking if they would vote for him.
When the applause from the audience died down Corden promised that if Cuban were to ever run for president, he would quit the show and become his "hype man." Britton certainly seemed happier about Cuban running for president than she was about Trump.