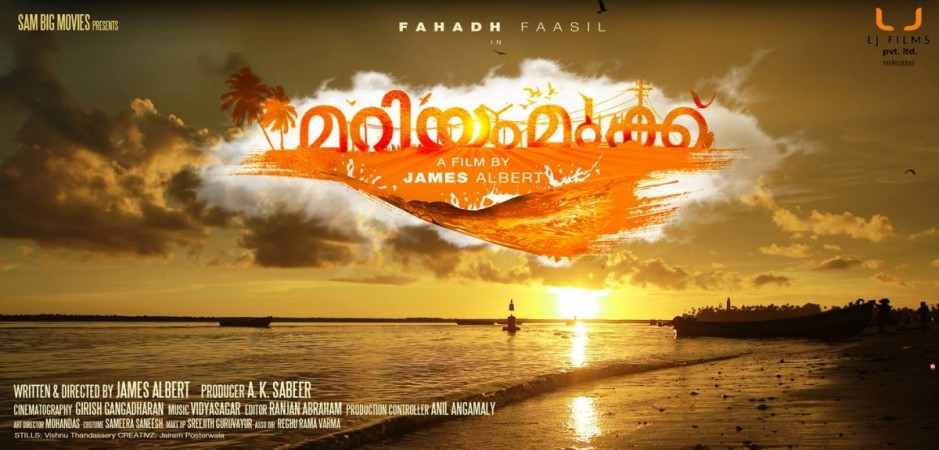 Malayalam movie "Mariyam Mukku", starring Fahadh Faasil and Sana Althaf, has opened to below-average reviews from critics and audience. The movie, a directorial debut for scriptwriter James Albert was received as a loosely scripted film that failed to explore the capabilities of the good star cast it had.
The story is set in a fisherman village Mariyam Mukku that follows a peculiar Latin American culture. Faasil will play the role of "Albert", a fisherman and follower of local thug Mariyan Asan (Manij K Jayan).
The story takes a turn when Salomi (Sana Altaf) enters his life and how the relationship affects his life. Most of the critics have opined that the movie makes an impressive beginning but fails to keep the momentum, but they have appreciated the performance of the actors and the cinematography.
Here are the reviews of "Mariyam Mukku" by various critics:
"Compared to the director's last few flicks as a script writer, this movie is far better but the promise showed in the first half is not sustained in the post intermission session. A glimpse of a beautiful and feel good love story gets a backseat in the middle stages and that did not hold any good for the film. It's a confused script as the scenarist is caught midway through as to whether to proceed as a full-length romantic film or add more drama to it. The latter option was chosen and thus that romantic track that was developing well loses its presence."
"Fahad Fazil struggles to bring to life a character that is badly etched. There is nothing challenging here for the talented actor to exhibit his histrionics. Manoj K Jayan goes through the motions with little conviction. Irshad as a goon hams it up with overplay. Prathap Pothen has precious little to do while Joy Mathew repeats his antics. Sana Althaf has zero chemistry with Fahad and the predictably shot song and romance sequences spoil it further. There are a whole host of characters in the movie but just like the movie they just float around like lifeless logs in the sea."
"The loose script ruined the film and the love track never rose to satisfaction. The predictable romance sequences and badly constructed characters just destroy the feel of the movie big time. Fahadh Faasil had nothing much in his character to show his talents and other actors like Manoj K Jayan, Prathap Pothen, Joy Mathew etc had portrayed the characters without any conviction to say the least. Sana Althaf and Fahadh lacked chemistry. Vidyasagar's music was above average and the visuals were the only positive factor in the film. Mariyam Mukku ends up an below average one and it could have been better if the script was a bit more engaging."