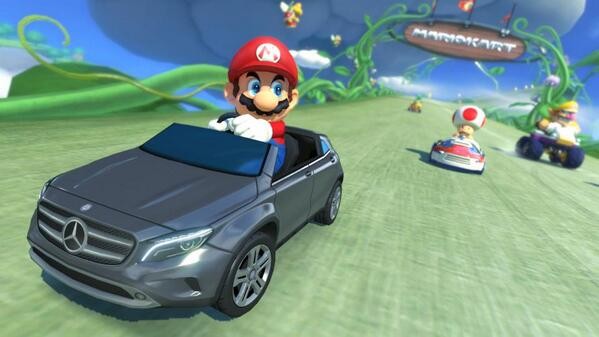 Nintendo has announced that it will be bringing Mario Kart 8's Mercedes Benz downloadable content (DLC) for North America and Europe. The DLC was initially released in Japan. The Mercedes Benz DLC is a for free and will land in the respective regions in summer.
"We're planning to release a GLA-Class kart from @Mercedesbenz for #MK8 this summer. Stay tuned for more info!" said a post from Nintendo of America. Previously, the company had promised that it will be rolling the DLC out to other countries in the "near future." (Also Read: Mario Kart 8 owners Get Mercedes Benz DLC for Free in Japan)
With the release of the DLC, players will be able to race the luxury compact SUV from Mercedes Benz in their Mario Kart 8 racing video game. This will be coming in the form of GLA-Class Kart. Since the SUV is not suited for kart racing, Nintendo will introduce the car as a roofless version which will allow Mario and his friends to race the 2014 GLA Class vehicle with their heads held high.
The Japanese release of the DLC was followed by Mario-themed TV commercials. Check out one below:
(YouTube Courtesy: mercedesbenzjapan)
The release of Mario Kart 8 was instrumental in boosting the sales of Wii U console by 90 percent. Wii U sales had presented discouraging figures since its launch in 2012. The slump in sales was compounded by the release of Microsoft's Xbox One and Sony's PlayStation 4 next-generation gaming consoles.
Mario Kart 8 went on to become the Wii U's fastest-selling video game pitching in an impressive 1.2 million units in sales worldwide within two weeks of the game's launch.
The game has 16 main characters like Mario, Luigi, Peach, Yoshi, Bowser, Donkey Kong, Toad, Koopa Troopa, Daisy, Shy Guy, Wario, Waluigi, Baby Mario, Baby Luigi, Baby Peach and Baby Daisy. The game has 14 unlockable characters like Metal Mario, Toadette, Iggy, Lemmy, Rosalina, Baby Rosalina, Lakitu, Larry, Morton, Wendy, Pink Gold Peach, Ludwig, Roy, Lemmy and Mii.
There are 32 courses in the game that includes partially underwater, rainbow roads and anti-gravity tracks.
The game also supports online multiplayer allowing about 12 players. Replay date from other racers can be watched on Mario Kart TV with functions like rewind and slow-motion features. It will also be compatible with Wii U GamePad, Wii Remote and Nunchuk, Wii U Pro Controller, Wii Classic Controller, and Wii Wheel.
Mario Kart 8 was released on 30 May, 2013 exclusively for Wii U consoles.