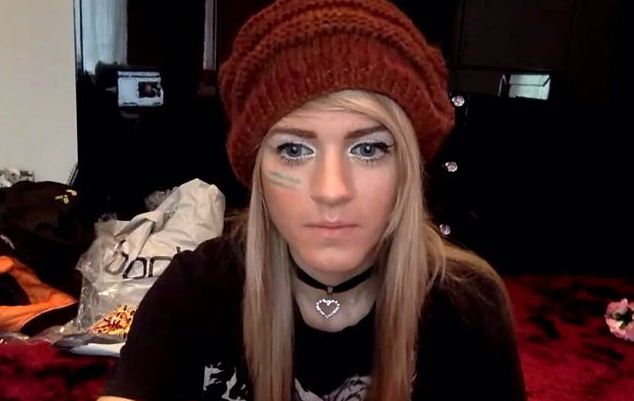 YouTuber Marine Joyce has confirmed that she is alive and well and even hosted a YouNow video to interact with her fans. Since the last couple of days, a few fans have been worried about the beauty blogger, noting that her demeanour on camera is that of someone hooked on drugs.
From allegations of being a drug abuser to being abducted by Isis, Joyce has been the centre of many controversies recently. A lengthy blog by an anonymous fan even noted a list of all the things that make her seem like she is on drugs. Further, her boyfriend was suspected to be holding her captive and making her do his bidding. Another conspiracy theory suggested that she may be abducted by the fanatic Islamic terrorist group Isis, which wants to use her as a bait.
After much speculation, the Enfield Borough police confirmed that they checked on the 19-year-old YouTuber and that she is in fact alive and well. However, the lack of any post on her social media sites confirming her well-being was again a reason for confusion.
Also Read: Marina Joyce controversy gets murkier and scarier
However, on Wednesday, July 27 afternoon, Joyce posted on Twitter that she is in fact alright and that she would be streaming a YouNow video to interact with her concerned fans.
Im TOTALLY fine guys, i am feeling very good today and its actually so heartwarming to see so many people care about me

— Marina Rose Joyce (@MarinaJoyce7) July 27, 2016
Im going to do a Live Stream today on Younow if you guys want to watch at some point today, probably around 12/1pm <3

— Marina Rose Joyce (@MarinaJoyce7) July 27, 2016
On YouNow Joyce confirmed multiple times that she is fine and even showed the camera around the room to prove she was not acting on anyone's orders. However, some fans still found her to be a little off and consistently asked her to give signs if she was in trouble. Some of the comments on the YouNow video read:
"ANYONE WHO LIVS IN LONDON AND KNOWS WHERE SHE LIVES PLEASE CALL THE POLICE AND THE DOCTOR SHE MAYBE DRUGGED"
"I know the address I'm worried. Going to check. Her Instagram is weird. We're all worried sick, this isn't funny"
"she looks absolutely terrified. something still isn't right"
"I don't think she being held hostage but I do think she may need help"
"Stop saying this is for publicity. You don't know that. No one knows if she's REALLY okay. No matter what we hear from her tweets or other's tweets claiming that she IS okay. She didn't LOOK okay while she was streaming but we just don't know. It would also help if people would stop posting stuff about her that isn't 100% factual or that hasn't/ can't be proven."
Fans are also wondering if the two blue lines on Joyce's cheek, as she talked on YouNow, is a sign. While Joyce has confirmed she is alright, fans do not seem too happy about her explanation. It remains to be seen if Joyce will put up a YouTube video explaining what exactly happened to her and how everything about her blew up all over the internet.
I love you'd pic.twitter.com/SybB0Rde0v

— Marina Rose Joyce (@MarinaJoyce7) July 27, 2016