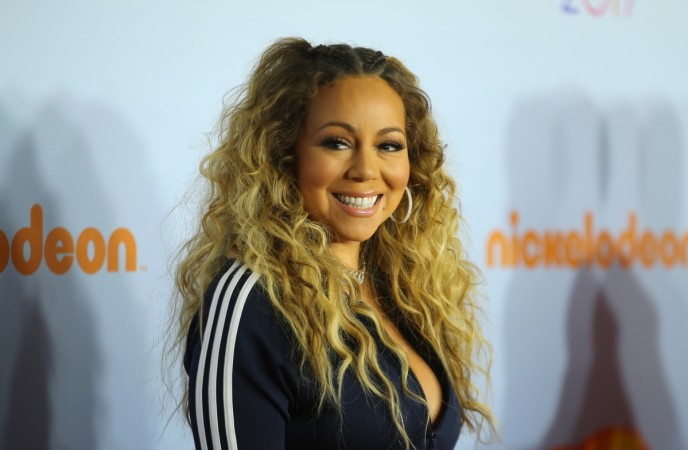 Singer Mariah Carey enjoyed some family time with rapper Nick Cannon and their twins, Monroe and Moroccan Scott, during Kids Choice Awards 2017 held at the Galen Center at the University of Southern California campus in Los Angeles.
Also Read In photos: Kylie Jenner oozes sex appeal in short and revealing outfits
She walked the red carpet in a stripped black and white outfit, flaunting her cleavage. The sweatshirt-inspired dress showed off a lot of flesh as she kept the zip a little open, giving it the feel of a deep neck top. She accessorised it with a studded diamond necklace and a pair of hoop earrings.
Shortly before heading to the venue, Carey shared her excitement about having some fun at the event with her followers on social media by uploading an image with daughter Monroe, showing off their matching outfits.
"Excited to take #demkids to the Kids' Choice Awards today! Trying on a matching ensemble with RoeRoe while @NickCannon is dressing Rocky #KidsChoiceAwards," read the photo caption.
Meanwhile, Cannon teamed up with Moroccan and wore an orange-coloured outfit to the red carpet of the Kids Choice Awards 2017, organised by Nickelodeon. They looked adorable as they posed for the cameras.
Although Carey and her baby daddy are maintaining a good relationship with each other even after their split, it's just for their kids. "Ultimately, it's about putting the kids first and making sure they have the best childhood they could possibly have. I think that'll be something that we'll always embrace as a family and as our families expand," Cannon said after their legal separation.
While the rapper has already expanded his family with Miss Arizona USA Brittany Bell and has a son with her named Golden, his baby mother is currently dating dancer Bryan Tanaka. Recently, the singer shared two photos with her new boyfriend, in which she wore a revealing black Leather top.