Kids' Choice Awards 2017 concluded on Saturday. The Nickelodeon event saw some bigwigs from the film, music and TV industry walking down the Orange carpet to celebrate the year gone by with their younger fans.
Celebrities like Ellen DeGeneres, Blac Chyna, King Cairo, Gwen Stefani, Mariah Carey and Demi Lovato attended the award night, hosted by wrestler John Cena. The event also saw Camila Cabello's solo performance for the first time since she separated from the Fifth Harmony. But the spotlight was on Ghostbusters as the movie won three major awards: Favourite Movie, Favourite Movie Actor and Favourite Movie Actress.
Also Read: Kids' Choice Awards 2017: Here's when, where and how to watch Nickelodeon's award show
Ellen DeGeneres took home three awards: Favourite Animated Movie, Favourite Voice from an Animated Movie and #Squad for Finding Dory.
Here's the complete winners list:
Television:
Favourite TV Show – Kids' Show: Henry Danger
Favourite TV Show – Family Show: Fuller House
Favourite Reality Show: America's Got Talent
Favourite Cartoon: SpongeBob SquarePants
Favourite Male TV Star: Jace Norman (Henry, Henry Danger)
Favourite Female TV Star: Zendaya (K.C., K.C. Undercover)
Movies:
Favourite Movie: Ghostbusters
Favourite Movie Actor: Chris Hemsworth (Kevin, Ghostbusters)
Favourite Movie Actress: Melissa McCarthy (Abby, Ghostbusters)
Favourite Animated Movie: Finding Dory
Favourite Voice from an Animated Movie: Ellen DeGeneres (Dory, Finding Dory)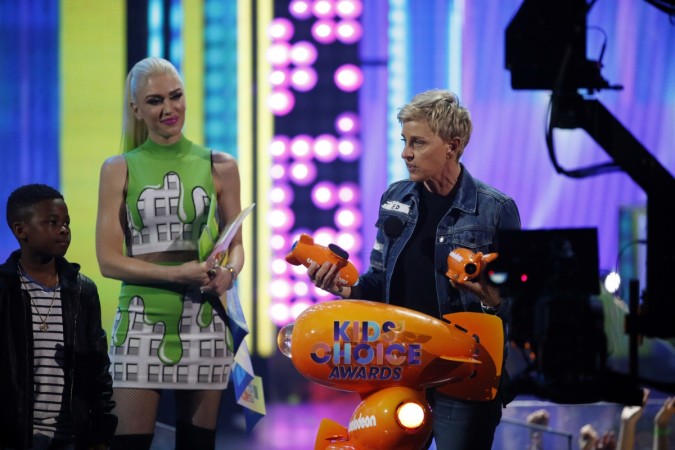 Favourite Villain: Kevin Hart (Snowball, The Secret Life of Pets)
Favourite Butt-Kicker: Chris Evans (Captain America, Captain America: Civil War)
BFF's (Best Friends Forever): Kevin Hart and Dwayne Johnson (Bob/Calvin, Central Intelligence)
Favourite Frenemies: Ginnifer Goodwin & Jason Bateman (Judy/Nick, Zootopia)
Most Wanted Pet: Snowball from The Secret Life of Pets (Kevin Hart)
#Squad: Finding Dory – Ellen DeGeneres, Albert Brooks, Kaitlin Olson, Hayden Rolence, Willem Dafoe, Ed O'Neill, Ty Burrell, Eugene Levy
Music:
Favourite Music Group: Fifth Harmony
Favourite Male Singer: Shawn Mendes
Favourite Female Singer: Selena Gomez
Favourite Song: "Work from Home" — Fifth Harmony feat. Ty Dolla $ign
Favourite New Artist: Twenty One Pilots
Favourite Music Video: "Juju on That Beat" — Zay Hilfigerrr and Zayion McCall
Favourite DJ/EDM Artist: Calvin Harris
Favourite Soundtrack: Suicide Squad
Favourite Viral Music Artist: JoJo Siwa
Favourite Global Music Star: Little Mix (UK)
Favourite Video Game: Just Dance 2017