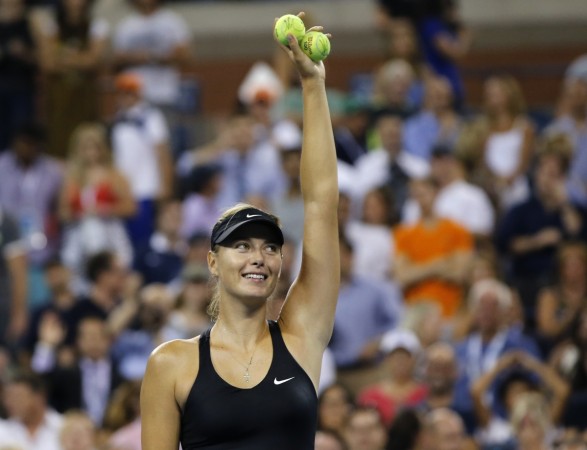 Tennis superstar Maria Sharapova's game during an exhibition match in Istanbul was interrupted for a brief moment when an over-enthusiastic fan proposed to her. The Russian tennis star was playing against Turkish No 1 Cagla Buyukakcay when the fan popped the proposal.
Sharapova had a great day as she beat Buyukakcay 7-6, 6-0 in the game, but it was her fan who stole the limelight.
As she was getting ready to serve at the Sinan Erdem Hall, the fan shouted: "Maria, will you marry me?" She paused for a moment and then nodded before saying, "maybe," drawing laughs and applause from the crowd.
This is not the first time a tennis star has received a marriage proposal on court. Several tennis stars, including Novak Djokovic, Rafael Nadal and Steffi Graf, have been proposed to mid-game.
One of the most memorable on-court marriage proposals was for Steffi Graf.
She was gearing up to serve in the Wimbledon women's singles semi-final in 1996 against Kimiko Date when a fan proposed to her. "Steffi, will you marry me?" the anonymous spectator screamed.
The stadium erupted into laughter and along with the crowd Graf and Date smiled.
She paused for some time and then asked the fan: "How much do you have?" Her reaction left the crowd in splits.
The marriage proposal became one of the funniest on-court moments, and later a much-watched video.
Another memorable marriage proposal was in 2012 when a young fan proposed Novak Djokovic. The young boy shouted, "Will you marry me?"
Djokovic showed his charm and called the boy to the court. He then asked the young fan to play and even offered him a few tips.
However, the memorable moment of that time was when Djokovic hugged the boy before sending him back to the stands.