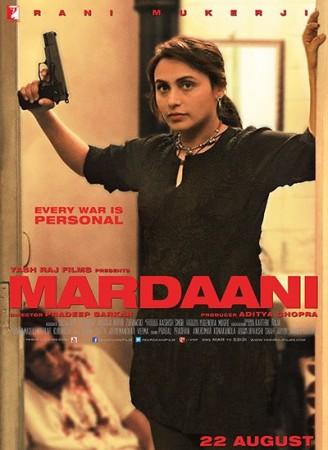 Rani Mukherji has impressed critics with her powerpack performance in her latest release "Mardaani".
The film, directed by Pradeep Sarkar deals with the serious issue of child trafficking. Mukherji is seen playing the role of a super cop.
According to critics, she has managed to overshadow other actors, including Ajay Devgn and Salman Khan with her flawless performance.
The storyline, supporting actors' performances and direction are also the strong points in the film, which makes it interesting, critics said.
Watch the trailer of the film here:
Check out the complete reviews below:
Mohar Basu of Koimoi.com said: "Mardaani is a movie that despite an unimaginative plot and predictable narrative engrosses you in its fabric. Rani Mukerji is pitch perfect in the role of a super-cop that is rightly hued, far from the floss and swagger of Chulbul Pandey and Singham. She is real, gritty and every bit brilliant. Though the film's climax loses itself in melodrama, this is a film that has its heart in the right place and tells a pertinent story at a time when it must be heard.
"I am quite proud to say that the roaring lady rules the show in Mardaani and with aplomb. Despite the film unraveling with as much wit and creativity as was expected of it, the movie is an attempt to alter the fare of commercial cinema, giving it a more real tinge.
"It might not be a brilliant film but it is a film that is better than good and must govern your attention for the theme it raises. It is a powerful film that seldom goes wrong and leaves by a message that must be heard."
Aparna Mudi of Zee News said: "Mardaani sees Rani Mukerji as the tough cop Shivani starting with a action packed start. Tahir Raj Bhasin is a true modern day villain. He creates an atmospheric of absolute hatred for him.
"Pradeep Sarkar has made a powerfully gripping movie with #Mardaani . This movie is thrilling without being over the top. To the point and great performances. The audience cheers for Rani as she taken on the ugly face of sex trafficking #Mardaani."
Srishti of Bollywoodlife.com said: "Rani plays a toughened cop and her spell binding performance has engaged and hooked us to wait for more. Tahir Bhasin plays the role of a pimp running an organised racket to the T. Chilling scenes depicting what happens in the dreaded world of forced prostitution and sex trade will haunt you even after you walk out of the theatre. For now Rani has given the pimp an ultimatum and we are waiting to get to the other side eagerly."
Sneha May Francis of Emirate 24/7 said: "Rani packs a punch as the fiery cop Shivani, who is untouched by influences from Bollywood supercops Chulbul Pandey and Singham. Despite a reference to Chulbul's trademark aviators, Shivani isn't bogged down by romantic tracks, the desire to randomly blow up cars, or even fly through air while chasing the goons.
"Director Pradeep Sarkar, who earlier gave us 'Parineeta' and 'Laaga Chunari Mein Daag', is ably assisted by editor Sanjib Datta to give this heroic tale a fitting canvas, minus the Bollywood clichés."
Prajakta Hebbar of IBNLive said: "#Mardaani opens with a bunch of under-cover cops busting a small-time criminal. #RaniMukerji effortlessly flits between her roles as a doting aunt and a friendly but tough cop.
"Man, some parts from #Mardaani are really brutal. Superbly and artistically shot, the narration is made brutal by its sheer honesty. #Mardaani is not cluttered with unnecessary songs or background scores. Dammmmmmmmmmn. The climax for #Mardaani has BLOWN MY MIND. Phew!"
Taran Adarsh of Bollywood Hungama said: "Unlike the female cops portrayed in Bollywood thus far, the cop in MARDAANI is as real as real can be. Sure, the plotline may bear similarities with the Liam Neeson starrer TAKEN [2008], but Sarkar steers clear of replicating the Hollywood movie or for that matter.
"MARDAANI grabs your attention from the commencement and never relents. Padding the proceedings with several intense episodes, MARDAANI eventually becomes the good versus evil fight as the protagonist makes her way to the baddie behind the baddies.
"On the whole, MARDAANI is relevant, powerful and inspiring with a top notch performance by Rani Mukerji. Worth a watch!"