Borussia Dortmund's star Spanish defender Marc Bartra bore the brunt of a possible terror attack on the German club's team bus last Tuesday, April 11, ahead of UEFA Champions League quarterfinal 1st leg against France's AS Monaco at Westafalenstadion.
The 26-year-old footballer underwent an emergency operation after breaking the radial bone in his arm; shattered glass and debris from the bomb blast had ripped his hands. Less than a week later, Bartra, still heavily strapped, is recovering steadily and looking for first-team action with Dortmund sooner.
READ: Bartra's wife Melissa Jimenez takes care of her husband post-injury.
He has taken time out and posted the updates on his recovery on Twitter and Instagram.
Today my family visited me in the hospital and that made me very happy. They are everything for me, the reason I struggle to overcome obstacles and this has been the worst moment of my life, an experience I would not want anyone in this world.

The pain, the panic and the uncertainty of not knowing what was going on, or how long it would last ... were the longest and the hardest 15 minutes of my life. All I want to say is that I think that the shock is decreasing more and more and at the same time they add the desire to live, to fight, to work, to laugh, to cry, to feel, to love, to believe, to play, to train, to continue to enjoy my people, loved ones, companions, my passion, to defend, to smell the lawn as I do before the game starts and motivate me.

To see the stands full of people witnessing us play is a wonderful thing. The only thing I ask, THE ONLY ONE thing, is to let EVERYONE of us live in peace and to leave behind the wars.

These days when I look at my wrist, swollen and badly wounded, you know what I feel? Pride. Thanks to the doctors, nurses, physiotherapists and people who help me recover. To the thousands and thousands of people, media, organizations of all kinds, the BVB and colleagues, who have given me your support and affection. As small as it may be, it has filled me incredibly with the strength to continue on and on.

I needed to write and unburden myself and to settle everything so I just think about getting 100% as soon as possible! A very big greeting!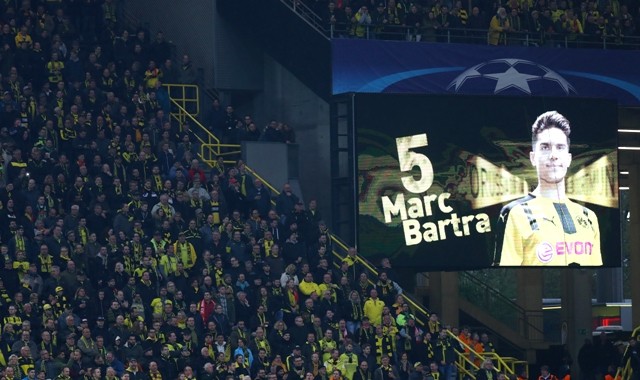 The footballer, on Monday, posted a pic with his former Barcelona teammates -- left-back Jordi Alba and midfielder Sergio Busquets -- on Instagram. Bartra played for the Barca senior team between 2010 and 2016.
Surprise visits that will cheer you up and you will never forget! Thank you, my friends.
Bartra's wife Melissa, too, has taken to Instagram to saying she "cannot love her husband more". Melissa is a sports journalist covering Moto GP. The couple got married in February 2014 and have a daughter Gala Bartra (born August 2015).
Both Barcelona and Dortmund, meanwhile, have a stiff task this week to overturn their Champions League first leg deficits. While Barca are trailing 0-3 against Italian giants Juventus, Dortmund trail 2-3 against Monaco.
More than Dortmund, it is FC Barcelona who needs the biggest of lucks for another memorable comeback in the second leg match and emulate the miracle win against PSG in the last round.